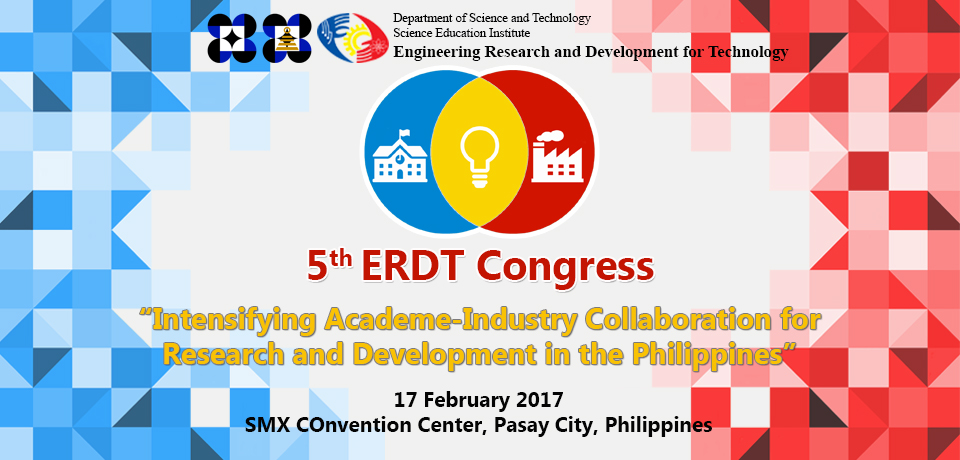 One way by which academe may contribute to the advancement of the global competitiveness of the Philippine economy is to work with industry. More specifically, there is a need to carry out academe-industry collaboration to the level where both sectors may bring research and development to bear upon the needs of society. Academe and industry may work together in each or all parts of the innovation engine: effective ideation, research, development, and application of technology. Here, application is used to include commercial and non-commercial uses of technology to solve problems of society. By collaborating, the two sectors may also help the evolution of research in academia towards a more needs-based and outcomes-based orientation. 
To articulate the challenges, new directions, and best practices in academe-industry collaboration, the Engineering Research and Development for Technology (ERDT) will be conducting its 5th ERDT Congress on 17 February 2017 at SMX Convention Center, Pasay City with the theme of "Intensifying Academe-Industry Collaboration for Research and Development in the Philippines."
The ERDT Congress is a yearly event where researchers, ERDT scholars, visiting professors, industry, government, and other experts gather and get inspired by plenary lectures of highly distinguished professors and experts all over the world. The Congress also serves as a platform in setting directions for research and development.
This event is open to ERDT scholars, ERDT faculty members, industry, government and non-government organizations.This is also free of any registration and other fees. But because we have limited slots, all potential participants should register prior to the event proper. 
For industry, government and non government organizations, send us your intent to participate by calling our office at (02) 434-0304 and (02) 981-8500 local 3160 so that we invite your organizations formally. Once you received the invitation letters, 
please register at 
https://
goo.gl/JiP31P
.
For your reference, please see tentative program.

For more information about the 5th ERDT Congress, kindly visit this site regularly.

The 5th ERDT Congress is made possible with the support of the following:
ARUP

Arup is the creative force at the heart of many of the world's most prominent projects in the built environment and across industry. From more than 90 offices in 40 countries our 13,000 designers, engineers, planners and consultants deliver innovative projects across the world with creativity and passion.
Each year, Arup reinvests a share of its profits in research as part of the firm's pursuit of technical excellence. Some of our research projects are conducted by specialists within Arup; others are collaborations with academic institutions or partnerships with industry. All these arm us with the insight and knowledge that we need to plan effectively for the future.
IGroup Asia-Pacific Ltd./Libtech Source Philippines, Inc.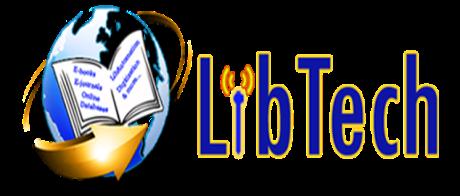 As part of the IGroup Asia-Pacific Ltd., we are the largest electronic resources-distributor in the Philippines, with principal office in Thailand and partner offices in major cities in the Asia-Pacific. We are the exclusive distributor of the leading Global Publishers such as Oxford University Press, Harvard University Press, John Hopkins University Press, Lippincott Williams and Wilkins, Turnitin, SAGE publications, ProQuest, IEEE, ASME, ASME, ASTM, SAE, SIAM and many more. We market and distribute educational & research content, primarily to top universities, medical institutions, scientific organizations and corporations in the Philippines. In general, we aim to be a one-stop shop for information products and library technologies.  
NASAT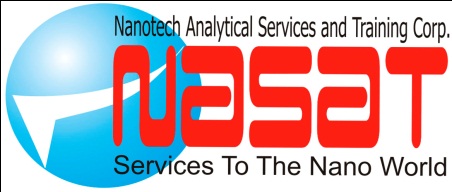 The on set of nano-technology which entail research and development activities in the global engineering and scientific field has led to the founding of Nanotech Analytical Services and Training Corp. (NASAT Labs) in 2009, with the following missions; (1) to provide material characterization, failure analysis and training to the semiconductor,electronics and allied industries, (2) to help build and beef-up R & D capabilities of the local industry for global competitiveness, and (3) to support nanotechnology related research initiatives and become an independent collaboration center for both local industry and the academia.
MIESCOR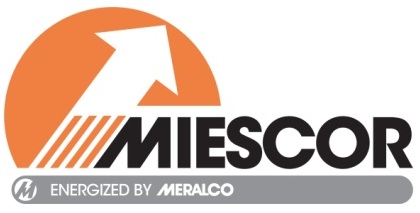 Meralco Industrial Engineering Services Corporation or MIESCOR was incorporated in December 1973 as a wholly owned subsidiary of the Manila Electric Company (MERALCO).  MIESCOR is one of the leading Filipino owned Engineering, Procurement, Construction, Operation and Maintenance firms in the Philippines.  A licensed contractor and classified under the highest category "AAA" by the Philippine Contractors Accreditation Board (PCAB).  Having a Forty three (43) years proven track records and specialize in Engineering and Construction Management Services, Power Transmission and Distribution, Power Generation, Renewable Energy, Oil & Gas and Industrial Plants, Waterworks, Rail Transport, Telecommunications, General Construction, Facilities Management, Testing and Commissioning, and Logistics Operation. 
MIESCOR is an active player in the Philippines and in the international markets. It has amassed a wealth of experience locally and abroad, particularly in Southeast Asia, the Middle East, and the USA.  This also highlights MIESCOR's brand as a solutions partner for its customers.  
Propelling growth, effecting change, and improving lives.  This is MIESCOR, the FORCE behind the POWER. 
SIGMATECH

Sigmatech was established in December 2000, specializing in sales and service of advanced technology laboratory equipment used in broad applications essential to QA/QC, Metrology, R&D, Failure Analysis, Environmental & Chemical Analysis, and process control.
With already over a decade of excellent service track record, we cater to a wide range of industries belonging to semiconductor, electronics, pharmaceutical, mining, food, petroleum, forensics, agriculture, automotive, biotechnology, nanotechnology research among others. Our dedication is not only to provide you the best in equipment but to provide professional and efficient service that sets Sigmatech Apart from competition.
Today, our company continuously strives to improve our business with you in mind as we are committed to your success. Your success is or success.