ERDT holds Research Management Training for Faculty Advisers
The Engineering Research and Development for Technology (ERDT) successfully conducted the ERDT Research Management Training 2016 held last March 12-13, 2016 at the Summit Ridge Hotel, Tagaytay City, Cavite. It was attended by a number of engineering faculty members who are handling ERDT graduate scholars from the eight consortium universities.
ERDT Program Leader Dr. Aura C. Matias delivered the welcome remarks and stressed out the importance of the role of thesis advisers in helping graduate students finish their degrees. 
Dr. Matias added that the training is designed to help improve the participants' skills in engineering research management and graduate students mentoring. She ended her spiel thanking the eight member universities and urging for future research collaborations among the consortium.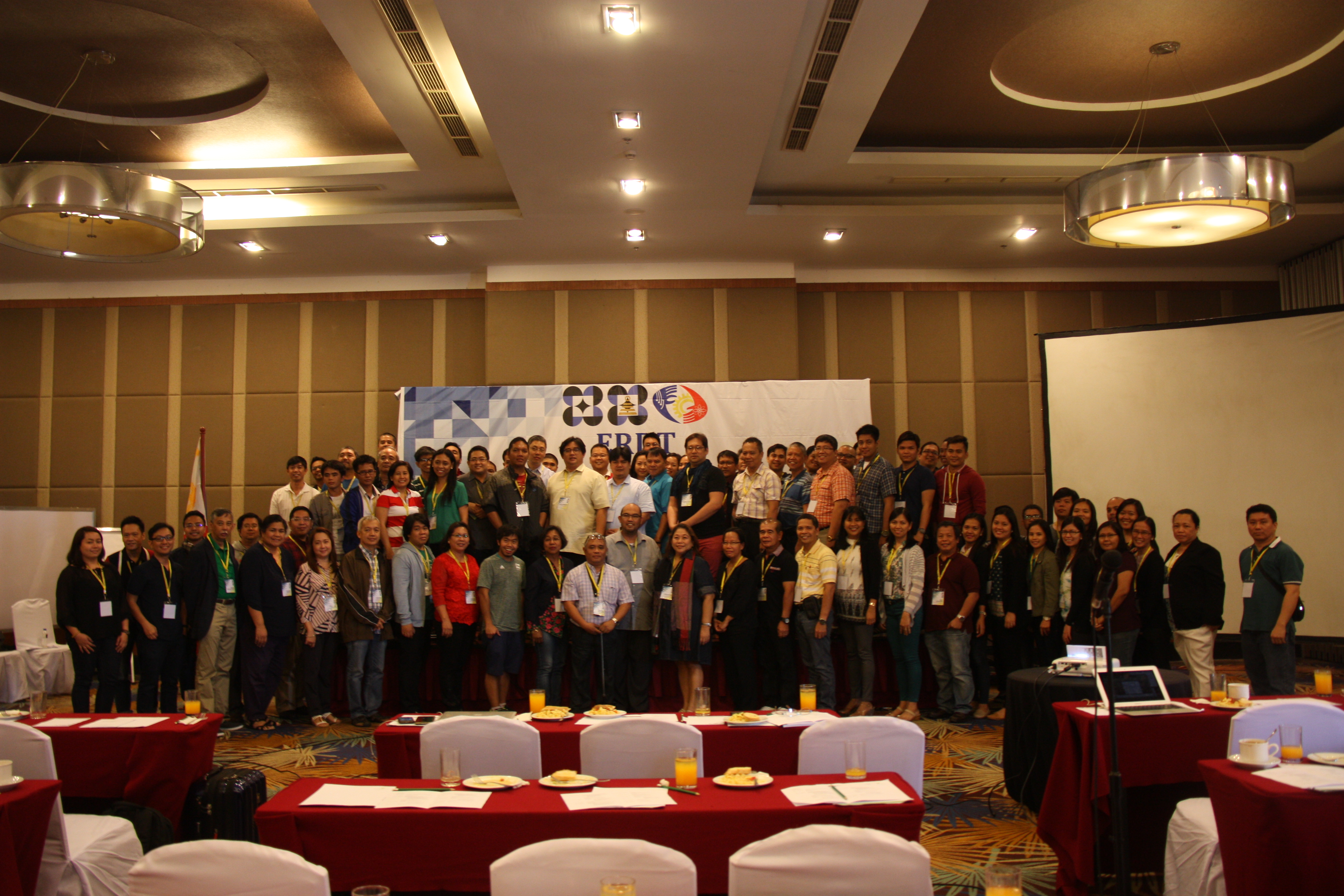 Faculty advisers and participants of the ERDT Research Management Training pose for a group shot with ERDT Program Leader Dr. Aura C. Matias.
First to present her topic entitled "Starting Your Research Career" is Dr. Susan B. Pancho-Festin, a professor from the Department of Computer Science of the University of the Philippines Diliman (UPD). In the first part of her topic, Building Your Research Agenda, she advised researchers to first conduct a SWOT (Strengths, Weaknesses, Opportunities and Threats) Analysis on themselves to be able to use their strengths on their favor and figure out how they could overcome weaknesses and threats. Segueing to the second part of her topic, Dr. Festin listed a number of organizations, such as USAID, EU, AUN/SEED-Net, among others, that provide grants to researchers for research projects. Dr. Festin told the participants to always conduct regular meetings with members of the research team for effective resource management.
Dr. Luis G. Sison, a professor from the Electrical and Electronics Engineering Institute of UPD presented his topic entitled "Opportunities and Challenges in Research Management", where he discussed about Technology Transfer and Technopreneurship. Dr. Sison defined innovation as a result of both technical capabilities and customer needs. He imparted to the participants the stages of technology transfer, from the laboratory to commercialization, and how essential it is to communicate with end-users to prevent innovations from failing. Furthermore, Dr. Sison stated that in the process of determining the Technology Readiness Level (TRL), a number of thesis projects can be generated.
Before the third speaker, a group activity was conducted. The participants were grouped according to their respective universities and were asked to perform a SWOT Analysis on the state of Research and Development (R&D) in their universities.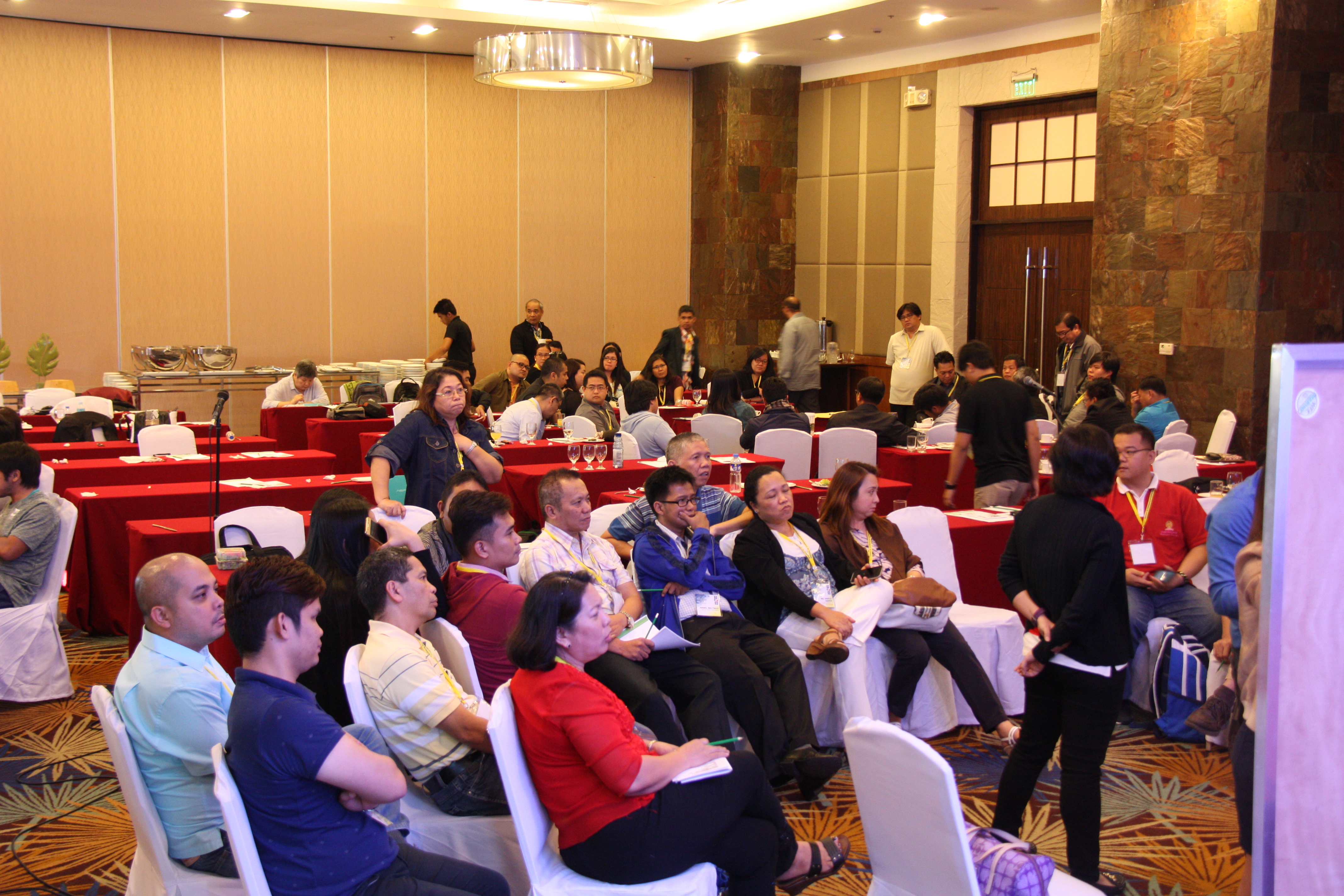 ERDT Program Leader Dr. Aura C. Matias observes the dynamics of one of the groups and gives her insights afterwards.
The third presenter of the training was Dr. Cedric Angelo M. Festin who presented his topic entitled "Collaboration in Research". Dr. Festin is a professor from the Department of Computer Science of UPD. He first shared about his early career as a researcher and how research grants given to him were very small in amount then. His experience supervising both graduate and undergraduate students with their research projects made him learn that there are different views and ways on how things work. This insight was useful in collaborating with sociologists and economists who are part of his team in his research project Village Base Station. He said that when researchers from different disciplines come together, the problem at hand will be viewed in different perspectives. At times, one view will be contrary to another, creating rifts between researchers. It is therefore imperative to practice patience and to have an open-mind to successfully implement the project.
The fourth part of the training was delivered by three different speakers, each of them tackling topics on "Mentoring". Sharing his knowledge on writing publishable scientific articles was Dr. Allan N. Soriano, a professor from the School of Chemical Engineering and Chemistry of the Mapua Institute of Technology (MIT). He discussed the significance of publishing research studies on scientific papers, saying that the study will remain as grey literature, will not be cited at all, and will be as if the research was never conducted, if it remains unpublished.
Engr. Ramon G. Garcia, a professor from the School of Electrical, Electronics and Computer Engineering of MIT, imparted to the participants the roles and responsibilities of a research adviser. A research adviser, he said, must be able to guide the student to complete his/her thesis at a certain standard, to encourage the student not to produce mediocre work. An adviser must also determine the viability of the thesis to ensure on-time graduation of the student. Engr. Garcia went on with discussing to the participants the good practices for on-time graduation, saying that the student must be fully committed with his/her chosen topic.
Gracing the podium with his comical presentation was Dr. Andres Winston C. Oreta, a professor from the Department of Civil Engineering of De La Salle University (DLSU). He started his presentation by showing the participants the masters and doctoral students that he was able to help graduate. Some of them, he merrily stated, are currently his bosses at DLSU. Afterwards, he tackled on the reasons why graduate students fail to finish their thesis on time, or not at all. Reasons such as lack of research skills, insufficient funds, and delayed procurement of equipment, among others, affect greatly the on-time completion of the student's thesis. Being a good research adviser means being able to help the student overcome the aforementioned reasons. He continued by presenting to the participants the different, but equally important, tasks of a thesis adviser.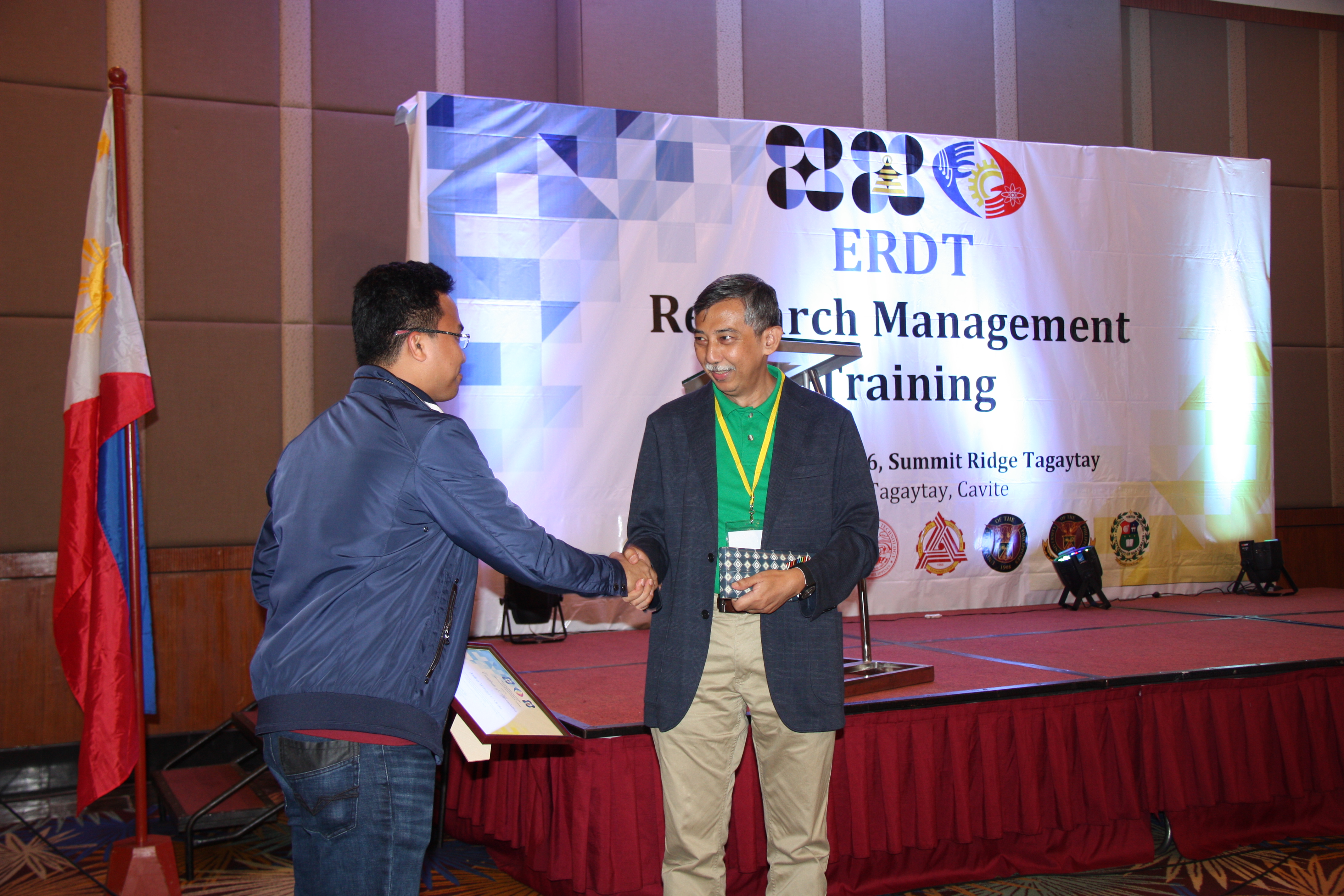 Dr. Andres Winston C. Oreta receives his certificate and token of appreciation from Dr. Joey D. Ocon after delivering a comical but very insightful presentation on mentoring.
The presentation of Dr. Oreta was followed by another group activity. The participants were grouped according to the different R&D Tracks such as Energy, Environment and Infrastructure, Information and Communications Technology, Manufacturing and Machinery, and Semiconductor Materials and Electronics. All groups were to identify their ideal R&D using the Program Logic Method where they determine the required inputs and activities to be able to produce their target outputs and outcomes, and consequently reach their desired goals.
The last part of the training consisted of presentations from the different groups. DLSU and MSU-IIT were asked to present the results of their SWOT Analysis. Representatives from the different R&D tracks were also required to present to the audience the results of their brainstorming. The presentations were followed by the awarding of certificates of participations to all the faculty research advisers.
Faculty advisers show approved sign after successfully deliberating their tasks.
Dr. Matias ended the program with her closing remarks. The program was hosted by Ms. Amabelle Ayop of DLSU and Ms. Charisse Cena of Ateneo de Manila University.