In April 2007, seven Deans of top caliber Engineering Schools of the Philippines got together to establish the Engineering Research and Development for Technology (ERDT) led by the former Dean Dr. Rowena Cristina L. Guevara of U.P. Diliman College of Engineering (COE), endorsed by former Department of Science and Technology (DOST) Secretary Estrella F. Alabastro and then approved by former President Gloria Macapagal-Arroyo with a P3.5 Billion funding for three years. This was continued up to now by President Benigno Simeon C. Aquino III and currently supervised by the DOST Secretary Mario G. Montejo through the Science Education Institute (SEI) and Philippine Council for Industry, Energy and Emerging Technology Research and Development (PCIEERD) of DOST, with an annual budget of around P300 Million.
The ERDT is a consortium of eight universities in the country that offers mature engineering graduate programs with U.P. Diliman as its lead university. As a program funded by the DOST, it aims to address the lack of highly trained researchers, scientists and engineers (RSE's) and R&D engineering activities in the country by implementing its program components such as the Human Resource Development (HRD), R&D and Infrastructure development.
The ERDT – HRD provides scholarships to potential and qualified applicants who are interested to pursue engineering graduate program. Aside from the scholarship, ERDT - HRD also provides Visiting Professor Program, Visiting Researcher Program, PhD Sandwich Program, Faculty Research Dissemination Grant and Post-Doctoral Studies. For the past years, ERDT has also sent faculty members to universities abroad to pursue their doctoral studies. These foreign and locally trained scholars affiliated with the consortium universities and State Universities and Colleges (SUCs) will greatly help us in upgrading the quality of engineering graduate programs. With the increase in number of faculty with doctoral degrees in the consortium universities, we can institute more advanced courses and higher degree programs especially in several SUCs where graduate programs need improvement.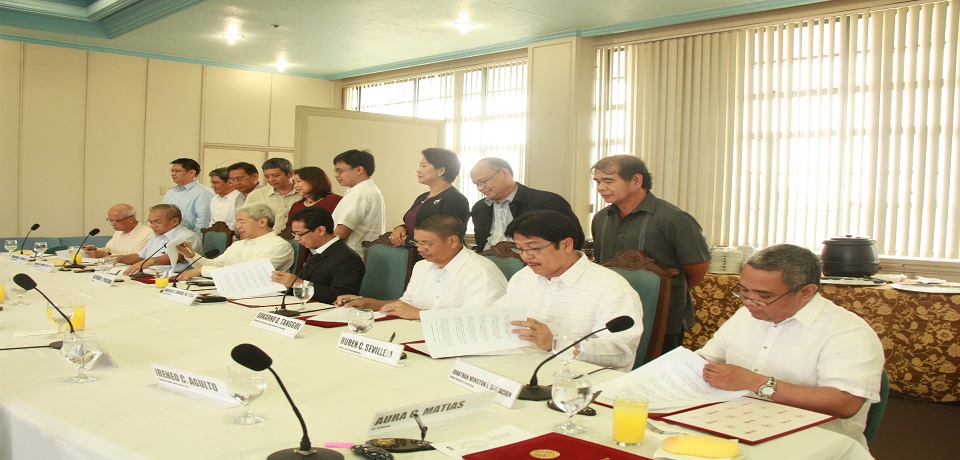 Presidents of member universities sign Memorandum of Agreement for the Implementation of ERDT as Deans and Project Leaders watch over them.
Through the ERDT R&D proposals submitted to the DOST, the groundwork for the R&D tracks has been laid. The ERDT has focused on the following areas as its research tracks: 1) Energy Track, 2) Environment and Infrastructure Track, 3) Information and Communications Technology Track and 4) Semiconductor and Electronics Track. This 2012, the Manufacturing and Machinery Track was launched in line with the DOST Makinarya at Teknolohiya Para sa Bayan or Makabayan project.
In addition to the HRD and R&D components of the ERDT Program, Infrastructure development was also prioritized by the ERDT Program. ERDT also embarked in organizing workshops, conferences, congress and summits.
In the last six years, ERDT has successfully laid the footprint and model for a successful engineering research program in the country. Numbers show, through the ERDT R&D program, that the research activities in engineering have increased significantly. The level and quality of research have also improved leading to a number of funded research works and papers accepted in refereed journals and conferences.
In summer of 2008, ERDT started the emphasis on technology entrepreneurship. This was brought about by the realization that for researches to be relevant, it must be translated to usable products or processes.  To prepare the scholars for possible technoentrepreneurship, ERDT started offering ERDT scholars technoentrepreneurship class since 2008.
ERDT has come a long way since its inception in 2007, achieving its main objective of acquiring a critical mass of researchers, engineers, and scientists with Master's and Ph.D. Degrees. The level of cooperation at that time has been carried forth and we now see the initial results of the combined efforts. The graduates of ERDT may be found in private industries, the academe, government agencies and start-up companies. It would take thirteen more years for ERDT to realize its goal of a critical mass of researchers, scientists and engineers for a globally competitive Philippines.
ERDT continues to increase the number of graduates and contribute to the realization of S&T plan of the country. We are one-third of the way now and a review of the program should be considered to ensure that critical elements of the ERDT Program are in place to ensure its sustainability. We can also see the fruits of ERDT towards value-added research activities in the near future through this human resources improvement for research and development.
Given the upcoming transformation of the ASEAN into a single economic market and production base in 2015, there is urgency in harnessing the talent pool of Filipino engineers and focusing them on high value added activities. The ERDT, along with its counterpart program for the Sciences, the Advanced Science and Technology Human Resource Development Program (ASTHRDP), form the foundation for our country's substantial participation in the ASEAN Economic Community.