8th AUN/SEED-Net Regional Conference on
Electrical and Electronics Engineering
co-located with 11th ERDT Conference
on SME, ICT and Energy
The Electrical and Electronics Engineering Institute of the University of the Philippines Diliman, together with the DOST-Engineering Research and Development for Technology (ERDT) hosted the 8th ASEAN University Network-Southeast Asia Engineering Education Development Network (AUN/SEED-Net) Regional Conference on Electrical and Electronics Engineering (RCEEE) 2015, co-located with the 11th Engineering Research and Development for Technology (ERDT) Conference on Semiconductor Materials and Electronics, Information and Communications Technology and Energy, held at Acacia Hotel, Filinivest City, Alabang, Metro Manila, 16 to 17 November.

ERDT Program Leader Dr. Aura C. Matias, AUN/SEED-Net Acting Executive Director and Chief Advisor Dr. Ueda Tamon, DOST SEI Director Dr. Josette T. Biyo and UP Diliman EEEI Director Dr. John Richard E. Hizon deliver their respective messages.
The joint conferences, with the theme "Envision, Enable, and Empower Smarter and Resilient Societies," were participated in by more than a hundred representatives from AUN/SEED-net member institutions, ERDT scholars, and enthusiasts.
The AUN/SEED conference is an annual conference that serves as a "platform to share the most updated technology and research of regional common issues, as well as publicize research works" of the AUN/SEED-net member institutions. It also allows opportunities for participants "to discuss future collaborations and activities related to each engineering field." The ERDT conference, on one hand, is also a regular event for ERDT faculty and scholars to showcase their academic and research works.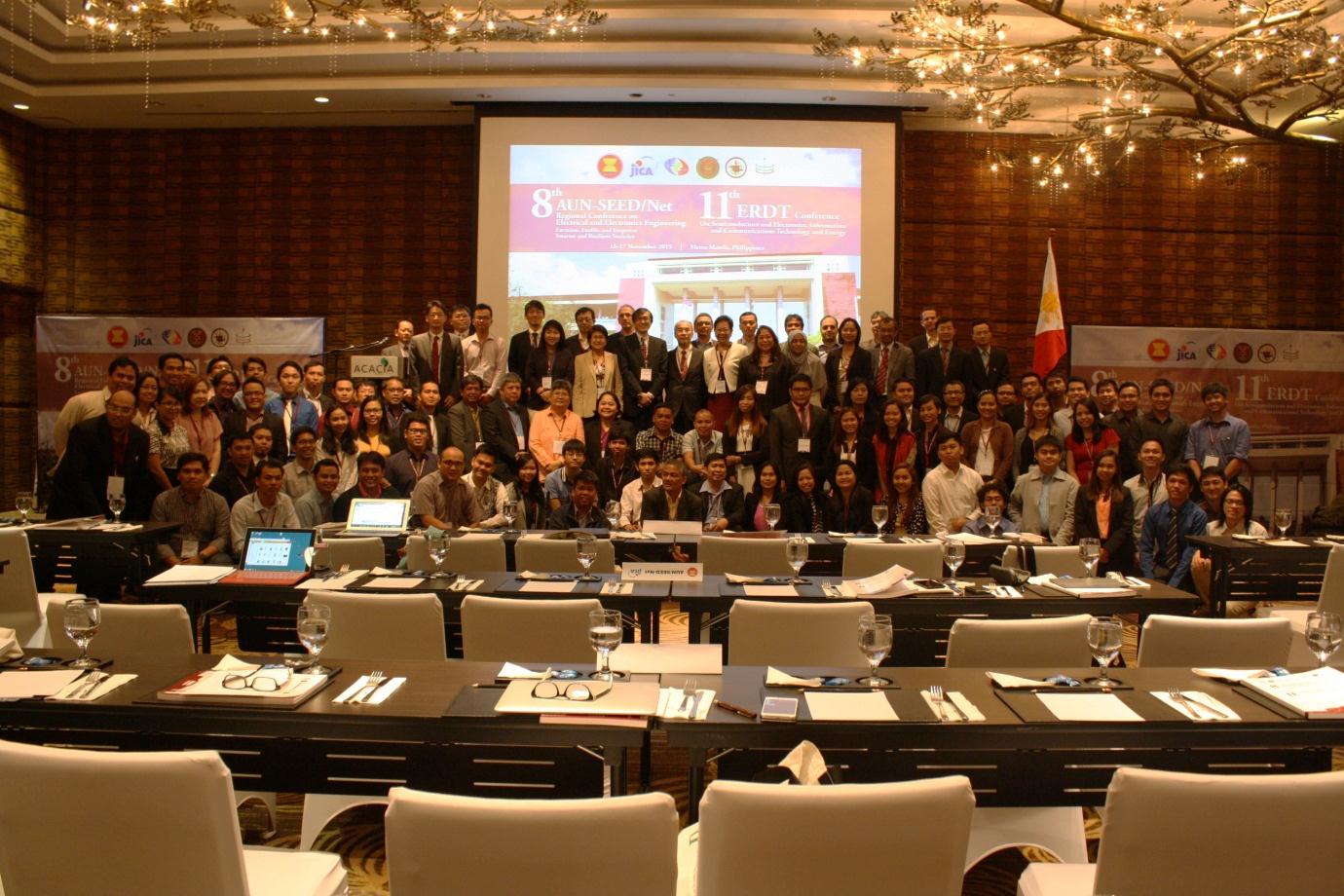 Participants of the 8th AUN/SEED-Net RCEEE and 11th ERDT Conference pose for a group photo.
The RCEEE 2015 and the 11th ERDT Conference featured five distinguished invited speakers. On the first day, Prof. Yukinori Kobayashi of Hokkaido University talked about "Robot Technologies for Smart Agriculture" while Prof. Tomoaki Ohtsuki of Keio University discussed "Self Organization in Wireless Communications". The third speaker, Dr. Delfin Jay Sabido IX of IBM Systems, shared information on ongoing research and development activities in the local IT industry through his talk, "Analytics Solutions for Philippine Challenges in Disaster Preparedness, Agriculture and Healthcare." On the second day, Prof. Costas Spanos of University California, Berkeley discussed collaborative research activities that address large-scale societal needs through his talk, "In the Interest of Society - collaborative research models and their application towards developing sustainable infrastructure in the tropics;" while Prof. Junichi Takada of Tokyo Institute of Technology shared the latest developments in "TV White Space for Rural Connectivity". Apart from the keynote speakers, the said conferences were also graced by the presence of the Acting Executive Director and Chief Advisor of AUN/SEED-net, Dr. Ueda Tamon; Director of Science Education Institute of the National Department of Science and Technology (DOST-SEI), Dr. Josette Biyo; and Dean of the UP College of Engineering and Program Leader of ERDT, Dr. Aura Matias; and Director of UP EEEI, Dr. John Richard Hizon, who delivered the opening messages on the first day.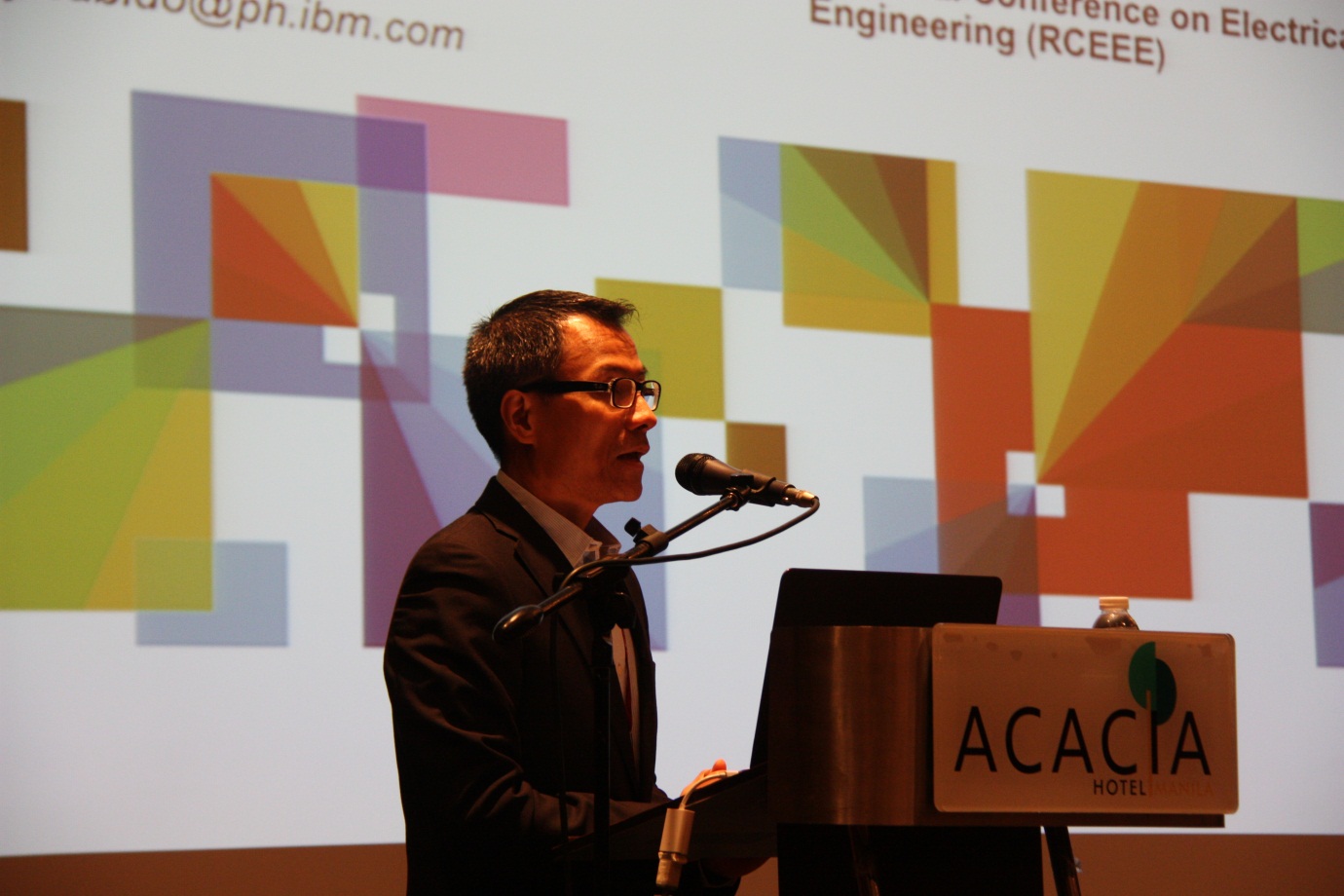 Dr. Delfin Jay M. Sabido IX, R&D Executive of IBM Systems, presents "Analytics Solutions for Philippine Challenges in Disaster Preparedness, Agriculture and Healthcare" during plenary sessions.
Out of 89 papers presentations, the joint conferences gave out nine Best Paper Awards, which were handed out during the conference banquet. Listed below are the Best Paper Awardees:
Detection of Micro-crack Defect on Eggshell by Means of Candle Lighting and Anisoptropic Diffusion, by M.Z. Abdullah and M.H. Abdullah, Universiti Sains Malaysia
Analysis of Proxy-Based Passive Duplicate Address Detection for Wireless Sensor Networks, by D. Blouin and S. Gordon, Thammasat University
Investigation of Class J-Tuned Doherty Amplifier, by B.E. Esteves and M.C. Purisima, University of the Philippines Diliman
Conversion Efficiency of Maximum Power Point Tracking for Photovoltaic String Under Partial Shading, by E. Leelarasmee and D. Benjardpongchai, Chulalongkorn University
Growth Mechanism of Type II GaSb/GaAs Quantum Dot on (001) Ge Substrates by Zon, T. Paempool, P. Prongjit, S.S. Han, S. Kiravittaya, S. Sopitpan, S. Thainoi, S. Kanjanachuchai, S. Ratanathammaphan, and S. Panyakeow, Chulalongkorn University
Study of Hybrid Methods for Melody Extraction of Polyphonic Signals for Philippine Indigenous Music, by J. Disuanco, V. Tan, and F. de Leon, University of the Philippines Diliman
A Novel Power-Efficient HD3 Cancellation for High Linearity, Pseudo-Differential OTA, by M.D.l Alea, J.R. Hizon, and L. Alarcon, University of the Philippines Diliman
Reliability and Material Characterization of Sintered Ag Die Attach on Varying Nitrogen levels for High Temperature Microelectronics Application, by R. Clemente and B. Basilia, Mapua Institute of Technology
A Modified RF to DC converter CMOS rectifier design for Energy Harvesting, by J.M. Tolete and J. Hora, Mindanao State University - Iligan Institute of Technology
As part of the conference program, the AUN/SEED delegates were brought to the Department of Science and Technology (DOST) compound in Bicutan, Taguig for a technical tour of the Electronics Product Development Center (EPDC) and the Advanced Device and Materials Testing Laboratory (ADMATEL). The EPDC aims to further enhance the local electronics industry's global competitiveness by supporting the design, prototyping and testing of electronics hardware and software. A key facility of the EPDC is a 10 meter semi-anechoic chamber that supports standards-based Electromagnetic Compatibility testing of electronic products. The ADMATEL, on the other hand, is a facility that houses sophisticated equipment such as Focused Ion Beam-Field Emission Scanning Electron Microscope (FIB-FESEM), Auger Electron Spectroscope (AES), and Time-of-Flight Secondary Ion Mass Spectrometer, which support failure analysis and reliability testing requirements of the local semiconductor and electronics industry. The technical tour served as an opportunity for the DOST to showcase innovative research and development outputs of the country - from processed food products and textiles - along with the state-of-the-art test facilities that support local IT, electronics and semiconductor industries.