ERDT R&D Summit 2012
Pepito T. Dizon
With almost 300 participants from the government, academe, industry and non-government organizations, the Engineering Research and Development for Technology (ERDT) successfully conducted its Research and Development (R&D) Summit 2012 last December 7, 2012 at the Diamond Hotel Manila.
The theme of the Summit was "Strengthening Synergies between Industry and Academe towards a Needs-Based Research." The R&D Summit 2012 served as a venue for the five ERDT R&D Tracks to present their agenda to its various stakeholders.  From the theme itself, the Summit also aimed to solicit inputs from the participants especially from the private sectors to further improve each track's agenda and invite them to invest in R&D activities and create collaboration efforts with the ERDT Consortium. 
This year's Summit started with the welcome remarks delivered by the ERDT Program Leader Dr. Aura C. Matias. She enlightened the participants by describing the structure of the ERDT R&D, how it works, and what are the accomplished and on-going projects. The remarks was followed by an opening message of the Department of Science and Technology (DOST) Secretary Mario G. Montejo which was read by Dr. Carol M. Yorobe, DOST Undersecretary for Regional Operations. Some of  the salient features of the message discussed how R&D contributed in the lives of every Filipino especially in times of disaster such as typhoon and what it is stored for R&D in the future in the Philippines.
The R&D agenda presentations and open fora began with the Environment and Infrastructure Track which was delivered and facilitated by its Track Heads Dr. Alexis P. Acacio and Dr. Maria Antonia N. Tanchuling. It was followed by the Energy Track which was tackled by one of its Track Heads Prof. Miguel T. Escoto and facilitated by Prof. Renato T. Goco. The next R&D agenda was the Semiconductor Materials and Electronics Track which was reported and facilitated by its Track Heads Dr. Joel Joseph S. Marciano and Dr. Leslie Joy L. Diaz. The fourth presentation belonged to the Information, Communication and Technology Track. Its R&D agenda was presented and facilitated by its Track Heads Dr. Adrian Roy L. Valdez and Dr. Ariel C. Blanco. The Manufacturing and Machinery Track was the last to report. This track was created months before the Summit in response to the increasing potential of the manufacturing in boosting the Philippine economy. Its R&D agenda was presented by one of its Track Heads Dr. Iris Ann G. Martinez and facilitated by Engr. Emmanuel A. Lim.
Prior to the Summit, each track handled series of focus group discussions, round table discussions, and one-on-one interviews with participants coming from the government, industry, academe and civil society organizations. The discussions intended to come up with solid R&D agenda by surveying the needs of the industry and matching them with the capacity of the academe and aligning them with government priority plans.
The Summit was concluded by the closing remarks rendered by Dr. Rowena Cristina L. Guevara, Executive Director of DOST – Philippine Council for Industry, Energy and Emerging Technology Research and Development. At first, Dr. Guevara highlighted the success of the ERDT by sharing stories of how she was personally greeted by the program's scholars in different places in the country when she travels. She added that in her local travels, she noticed the huge potential of our manufacturing industry and that there are lots of locally produced products in provinces that are really good for global commerce but have not penetrated the local market. Dr. Guevara further said that perhaps this is where R&D collaboration is needed. Before she ends her speech, Dr. Guevara cited Manuel V. Pangilinan, a business tycoon investing in incubation. Dr. Guevara added that it takes courage for Mr. Pangilinan to do that since the probability of success for that investment is very low but when a single incubator succeeded, its profit exceeds one's investment and even losses from the other incubators which failed. As a final note, Dr. Guevara highly encouraged and invited the industry people to never be shy and never be afraid to invest in R&D related activities.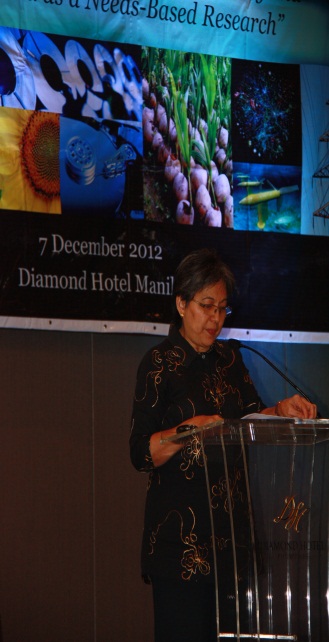 Dr. Carol M. Yorobe, DOST Undersecretary for Regional Operations delivers DOST Sec. Mario G. Montejo's official message.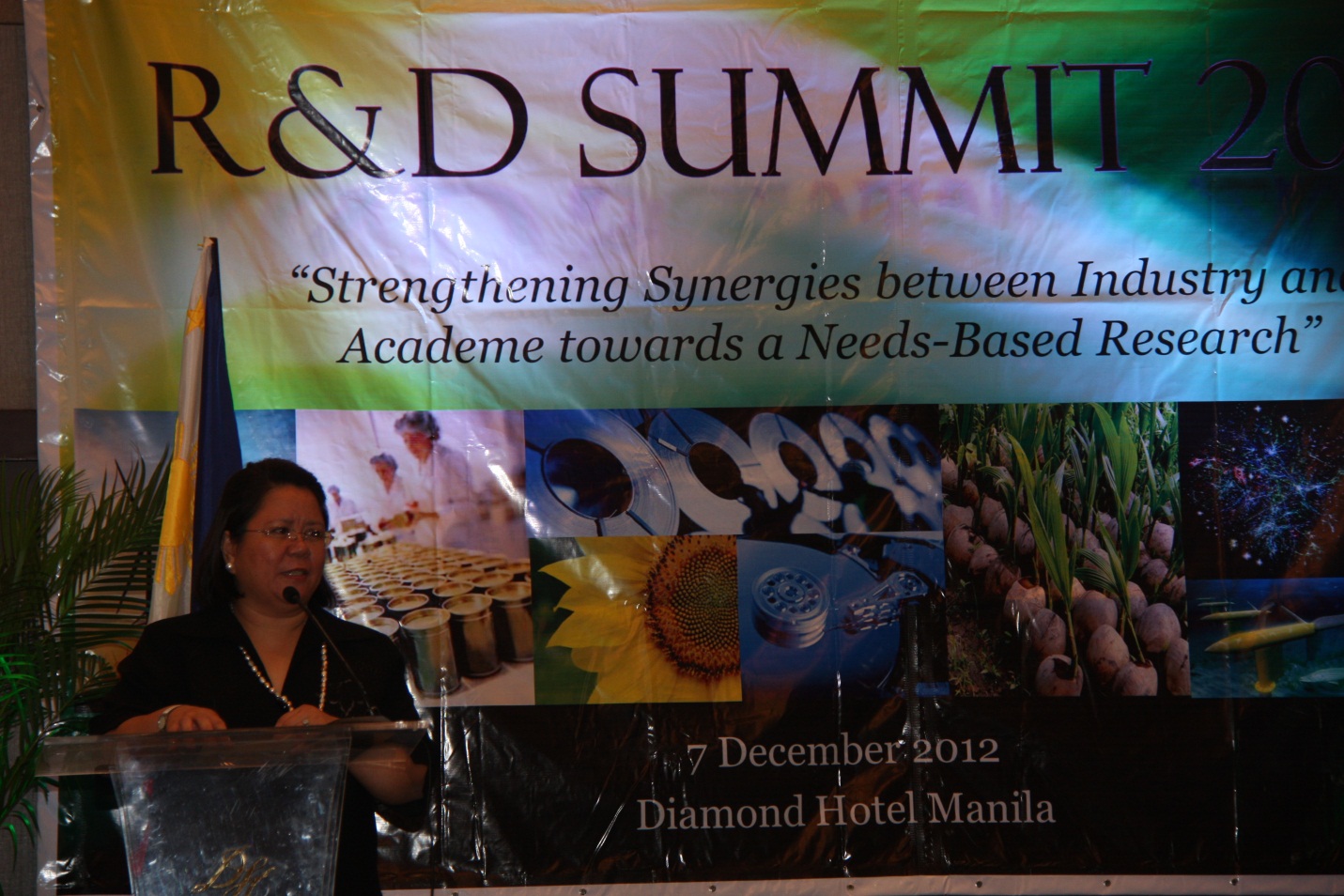 Dr. Critina Rowena L. Guevara, PCIEERD Executive Director delivering her inspirational closing remarks.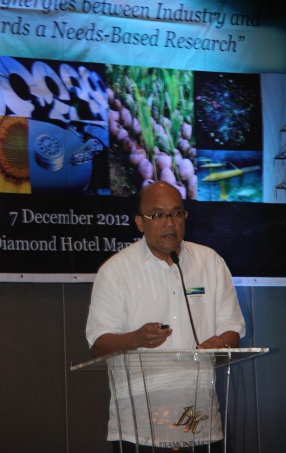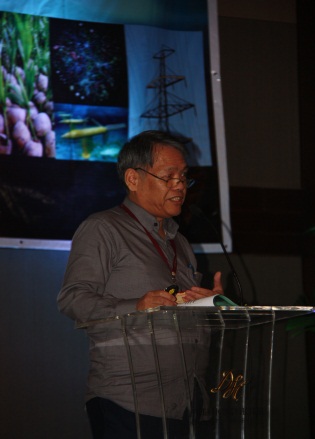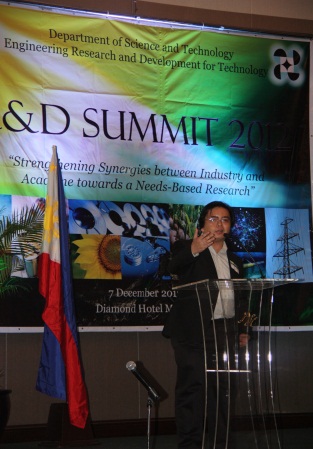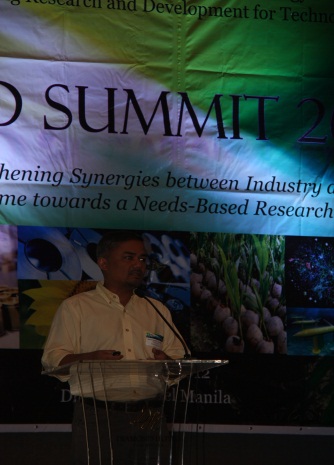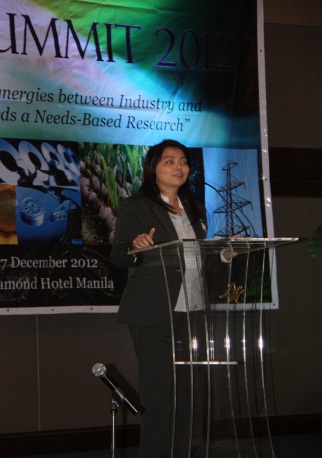 ERDT R&D Track Heads present their respective agenda.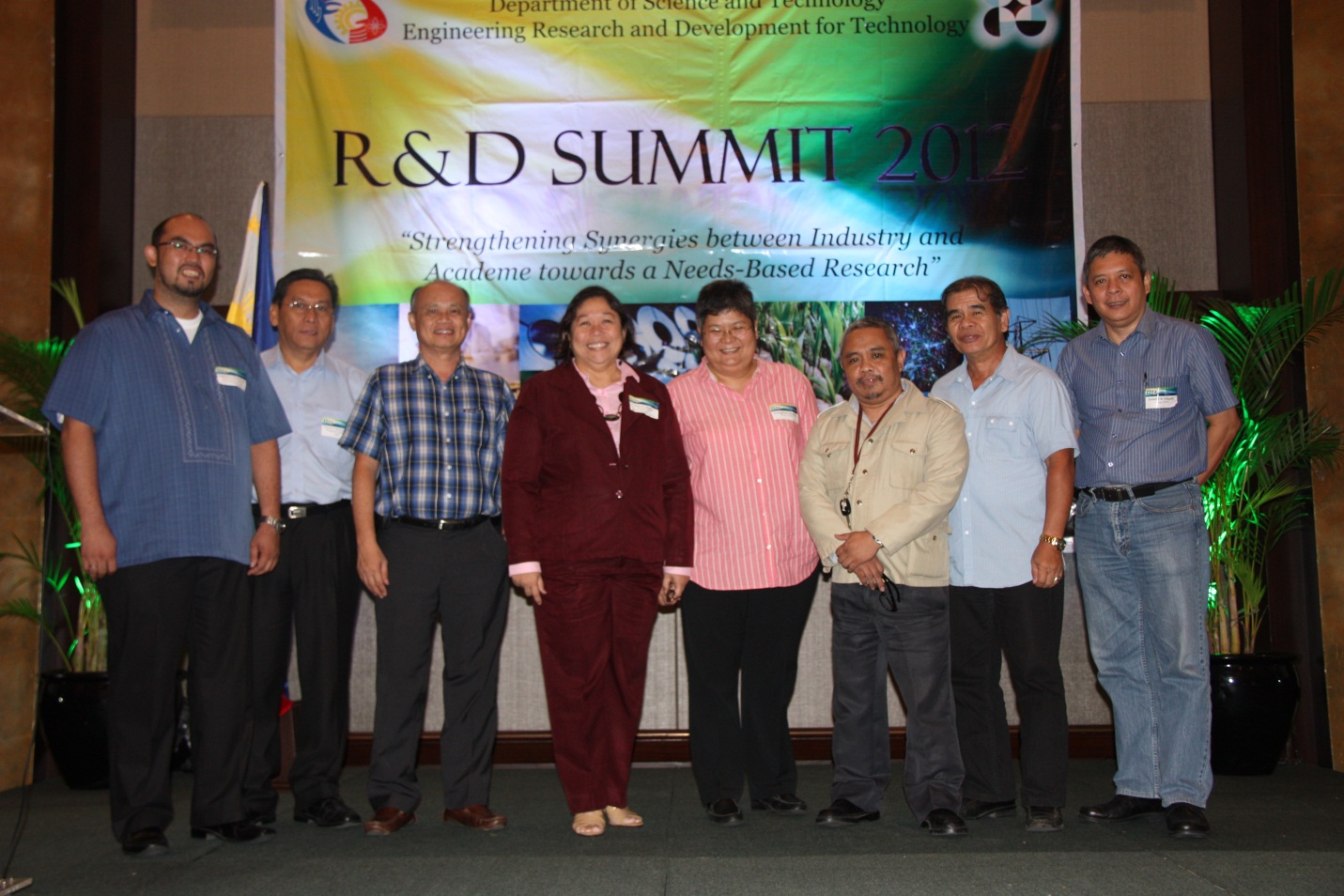 Dr. Aura C. Matias, ERDT Program Leader together with ERDT Consortium Project Leaders posed for a photo op during the Summit.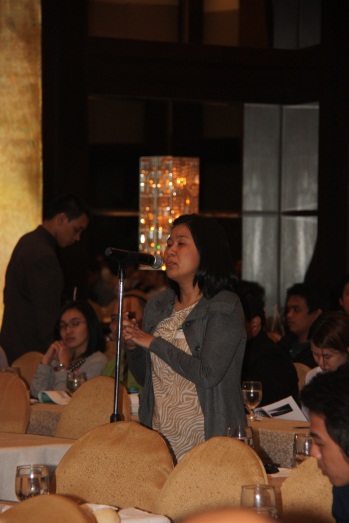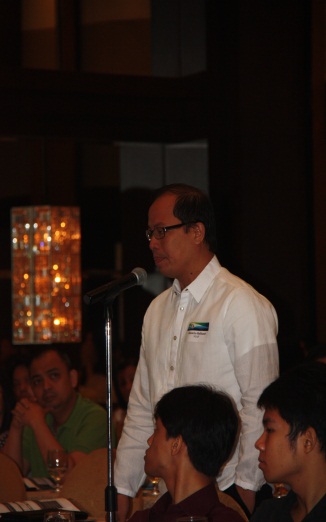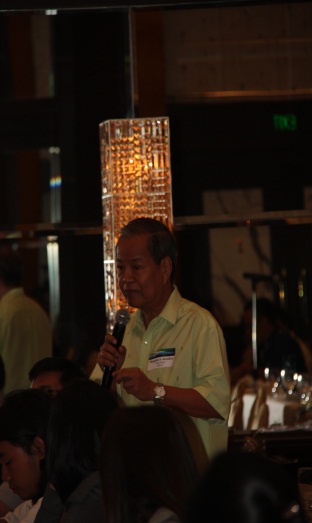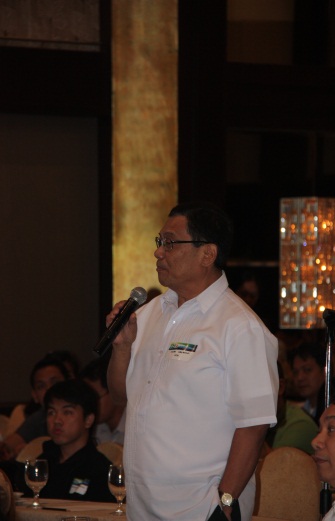 ERDT R&D Summit 2012 participants sharing their inputs to each agenda presented.