7TH CONFERENCE FOCUSES ON
'CARBON-NEUTRAL' ECONOMY*
Celeste Ann Castillo Llaneta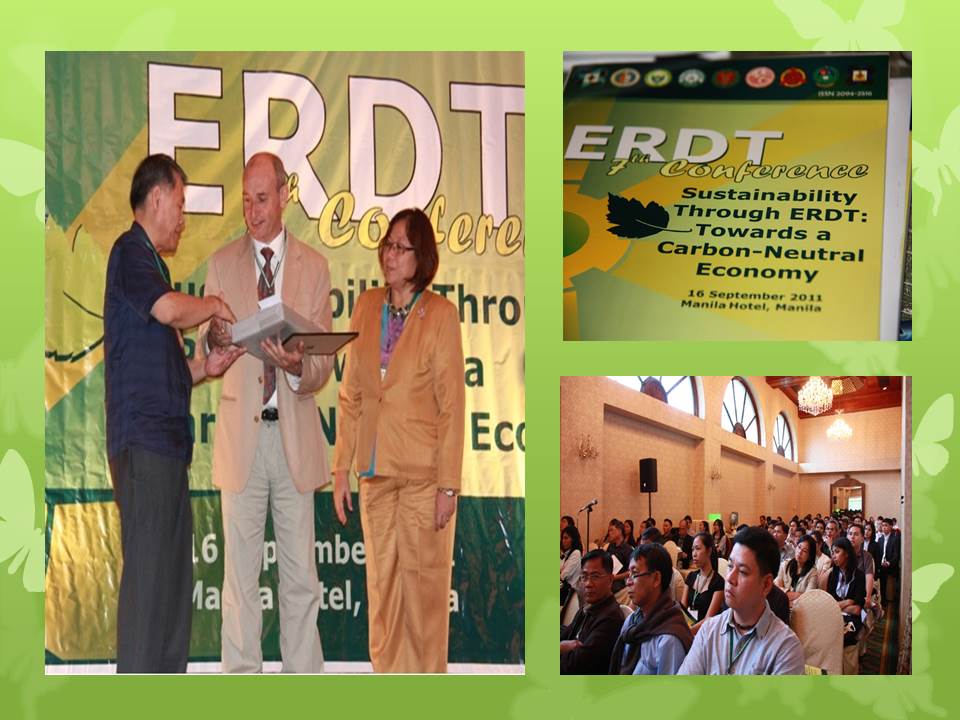 For its 7th conference, the Engineering Research and Development for Technology (ERDT) focused on what ERDT Program Leader and UP Diliman College of Engineering Dean Aura Matias referred to as "a very urgent matter that not only affects our country but is in fact a global concern—that is our environment and the growing concern for the effects of climate change."
With the conference theme "Sustainability through ERDT: Towards a Carbon-Neutral Economy," the issue of the environment and climate change is indeed a hot topic for ERDT scholars.
"In 2010 alone, around one-third of the P200 million worth of Department of Science and Technology (DOST)-approved research projects were in the Environment and Infrastructure research track [of the ERDT].  This underscores the focus and the need for such activities in this area," Matias said.
She added that "aspiring to be carbon-neutral is not solely the work of researchers and scientists from the Environment and Infrastructure track.  The gargantuan task of addressing climate change and its interconnected impact needs a multidisciplinary approach."
Held on September 16 at the Manila Hotel, the 7th ERDT Conference featured two keynote speakers from government.
As the first keynote speaker, Dr. Amelia Guevara, executive director of the DOST-Philippine Council for Industry, Energy and Emerging Technology Research and Development (PCIEERD), presented the research and development (R&D) programs of DOST and PCIEERD that research engineers and ERDT scholars can work on with government.
The DOST's priority R&D areas include food security, environment, energy, and disaster risk reduction and management.  On the other hand, the areas of R&D under PCIEERD, which is mandated to spearhead projects related to energy self-sufficiency and alternative and renewable energy, include the development of small-scale wind turbines, microhydro turbines, solar technology, waste-to-energy technology, biofuels, energy conservation, and low-carbon-emitting technology for transportation.  The latter includes the Automated Guideway Transit system, the prototype is to be built in UP Diliman.
As a keynote speaker, Department of Environment and Natural Resources Undersecretary Analiza Teh stressed the DENR's recognition of the efforts of the ERDT to address sustainability concerns and resource management and utilization.  Usec. Teh enumerated the DENR's programs and policies in areas such as clean air, clean water, productive forests, productive lands, viable systems and life-support systems, mining, and solid waste management.  Engineering research and technology innovation is required in each area.  This is particularly true for the DENR's ongoing research agenda to push for forestry plantations as a means to achieve carbon neutrality, as well as research for more accurate estimation of carbon density and sequestration rates of forestry plantations.  The latter's objective is to provide information for carbon trading, carbon accounting, and a clean-development mechanism.
The conference also featured two plenary speakers who spoke on new developments in engineering happening worldwide.  Dr. Guiseppe Cavallaro, professor at Nanyang Technological University (NTU) in Singapore and program manager of the Wind and Marine Renewables department of the NTU Energy Research Institute, discussed developments in harnessing the ocean as a source of renewable energy.  On the other hand, Dr. Alex Waibel, director of InterACT and professor at Carnegie Mellon University (USA) and at Karlsruhe Institute of Technology (Germany), spoke on developments in language technology and cross-lingual computer communications system.
The afternoon featured parallel sessions for the oral presentations of papers in each research track.  This was followed by the unveiling of the winning design for the new ERDT logo.  Awards and a cash prize of P10, 000 each were given to the three best paper contest winners and the three poster contest winners.
Since its full implementation in 2007, the ERDT Program has produced 113 MS and six PhD engineering graduates.  It currently hosts 439 MS and 81 PhD scholars among the member-universities of the ERDT consortium—Ateneo de Manila University, Central Luzon State University, De La Salle University, Mapua Institute of Technology, Mindanao State University-Iligan Institute of Technology, University of San Carlos, UP Diliman, and UP Los Baños.
The ERDT has successfully awarded 92 percent of its target number of MS scholars and 74 percent of its target number of PhD scholars.  Program Leader Aura Matias expressed optimism in reaching the 100-percent mark as the ERDT Steering Committee "continues to campaign and do road shows in other universities all over the Philippines (to invite engineers and engineering students) to partake of the opportunity to earn graduate degrees in the eight universities that are members of the ERDT consortium."
Coupled with the human resource development component of the ERDT is its R&D component under four identified research tracks—Energy, Environment and Infrastructure, Semiconductors and Electronics, and Information and Communication Technology.  Dr. Matias reported that as of May 2011, 59 ERDT projects amounting to more than P327 million have been approved by DOST.
*7th ERDT Conference, "Sustainability Through ERDT: Towards a Carbon-Neutral Economy", September 16, 2011, Manila Hotel, Manila, Philippines