ERDT NATIONAL CONFERENCE 2020
Post-Activity Report
The ERDT National Conference 2020 (ENC 2020) is a five-day event that ran from 7 December 2020 to 11 December 2020. With the theme, "Bouncing Back into the New Normal", the Conference covered the research and development tracks of the program namely: Energy, Environment and Infrastructure, Information and Communications Technology, Manufacturing and Machinery, and Semiconductor, Materials, and Electronics as the sub-topics of the plenary talks and technical presentations.
The ENC 2020 is the first completely virtual event that was hosted by the ERDT. Participants were able to join the conference by logging in to the Zoom webinars and watching the real-time stream of the sessions on YouTube.
In his plenary talk, Dr. Erwin Enriquez, recipient of the 2020 Julian A. Banzon Medal for Outstanding R&D in Applied Science, talked about the details of his team's project on printable photovoltaic cells. Dr. Enriquez also emphasized the importance of adopting a trans-disciplinary approach in conducting research.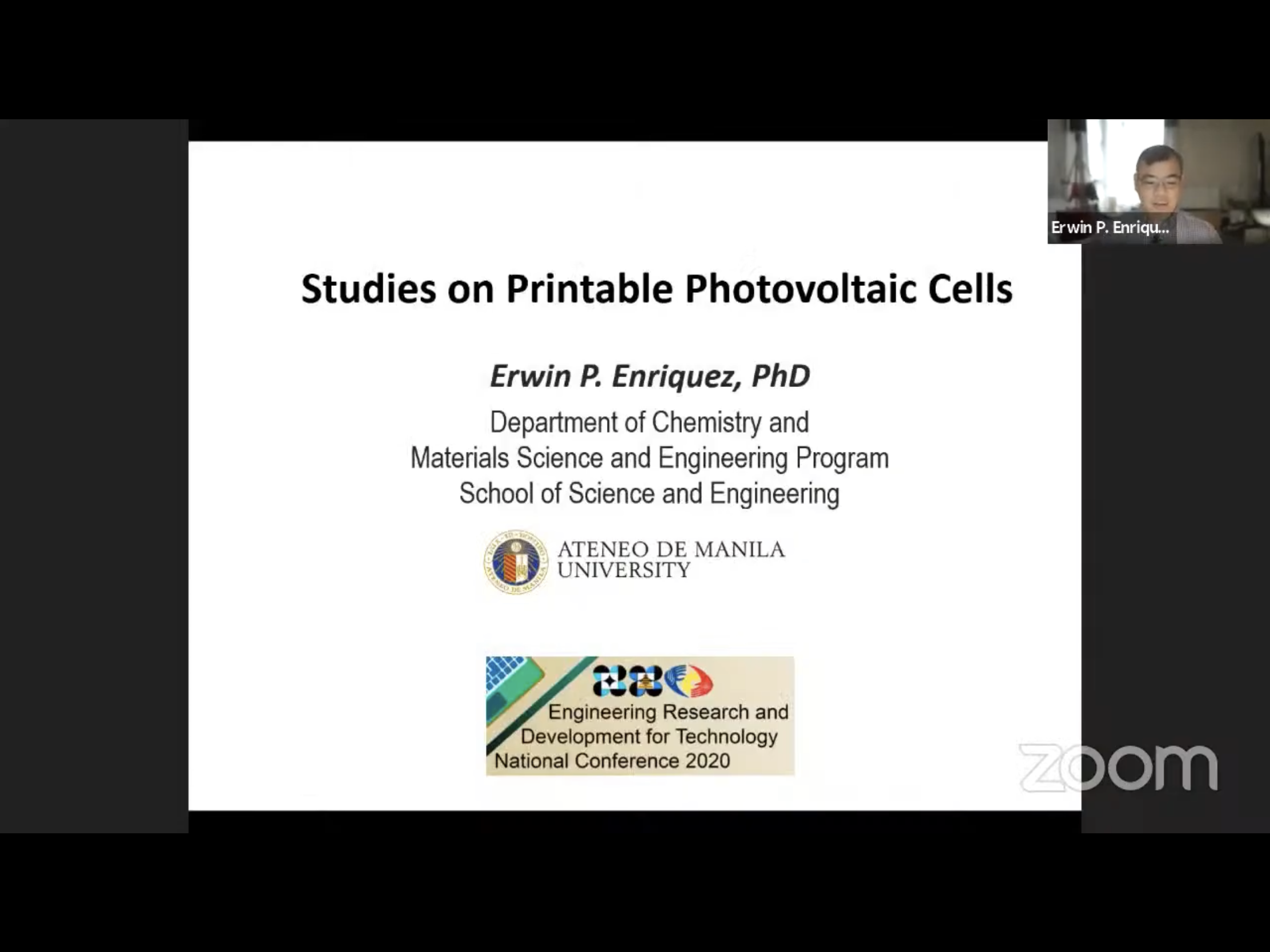 Dr. Enrico Paringit, Director of DOST-PCIEERD, discussed how environment and infrastructure resilience can be achieved through research and development. He related this to the research direction that PCIEERD is leading its multi-sectoral stakeholders to, in order to bring S&T innovations closer to the people.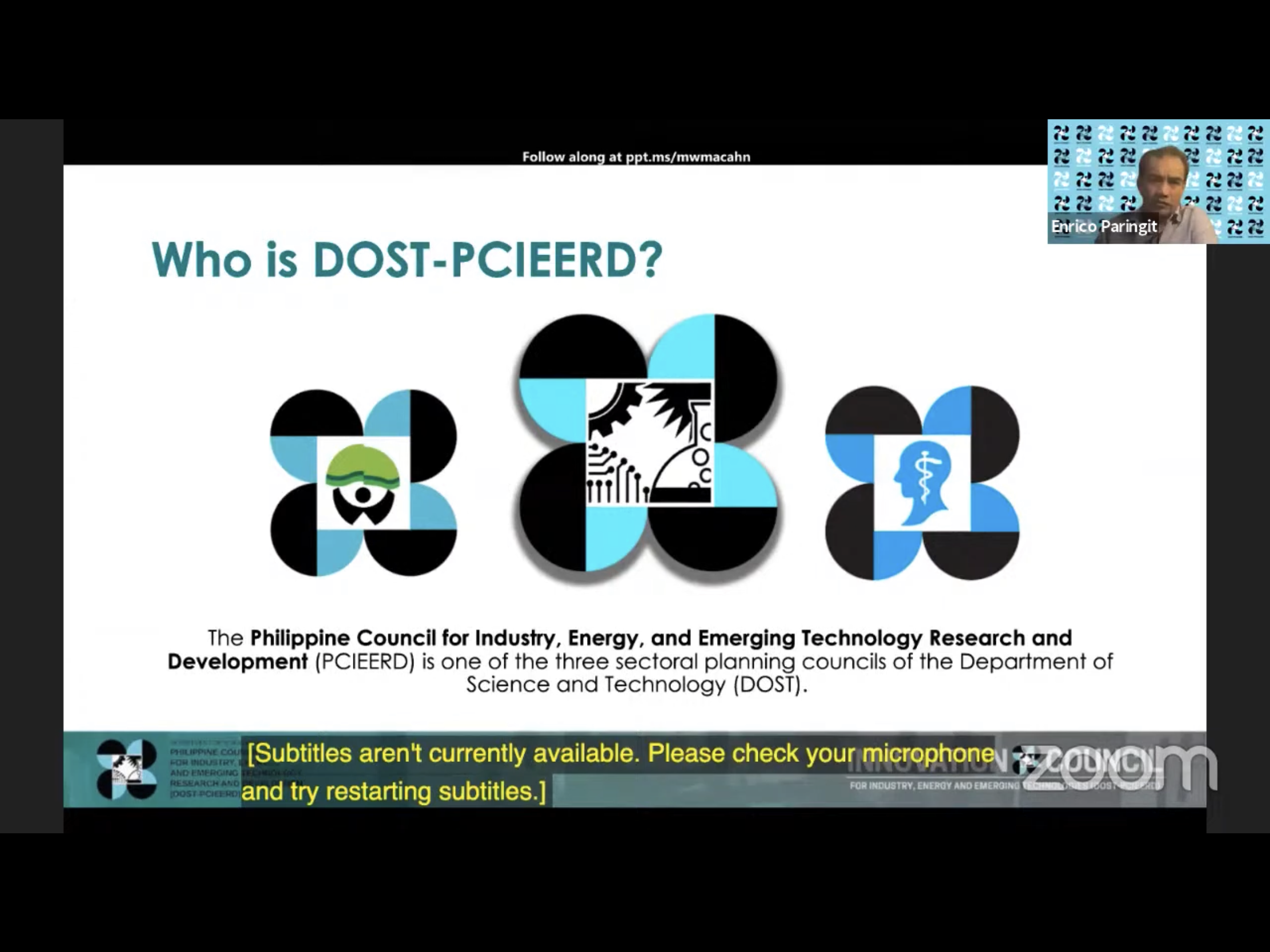 For the Information and Communications Technology Session, Dr. John-John Cabibihan--- a Filipino inventor based in Qatar, encouraged the participants to align their research projects to the needs and demands of the medical field.
Meanwhile, Engr. Rafael Nestor Mantaring, and experienced industry practitioner and academician, presented the R&D opportunities in the new normal. Engr. Mantaring tuned his presentation to the primary considerations of enterprises in Industry 4.0, which are: health and safety, resilience and agility, and operational efficiency.
Related to the plenary talk of Engr. Mantaring is that of Dr. Jozelyn Villaverde's. Dr. Villaverde, a professor at the Mapúa University-School of Electrical, Electronics, and Computer Engineering, discussed the demands of Industry 4.0. She explained how embedded systems are continuously being applied in all aspects of human life, and how this field will inevitable expand further in the future.
Thirty-one papers from local and foreign MS and PhD scholars from across the ERDT Consortium passed the initial screening, and were presented during the five sessions. Below are the best paper awardees:
| | | |
| --- | --- | --- |
| Presenting Author | Title of Paper | Affiliation |
| Reniel Z. Rocaberte | Development of Hybrid Convection Solar Dryer for Seaweeds (Kappaphycus alvarezii S.) | CLSU |
| Edgar Clyde R. Lopez | Colorimetric Detection of Copper Ions in Water using Polymer-decorated Silver Nanoparticles | UPD |
| Patrick Matthew J. Chan | Philippine License Plate Localization Using Genetic Algorithm and Feature Extraction | DLSU |
| Jordan L. Abad | Development of an Oyster Mushroom (Pleurotus Spp.) Substrate Compactor-Bagger | CLSU |
| Nemilyn A. Fadchar | Design and Development of a Neural Network-based Coconut Maturity Detector using Sound Signatures | MU |
Link to the Video Recordings:
Energy: https://www.youtube.com/watch?v=Aop-L1eG9Qw
Environment & Infrastructure: https://www.youtube.com/watch?v=7U6eLmQmFOw (Part 1) https://www.youtube.com/watch?v=47Fttor7ryQ (Part 2)
Information & Communications Technology: https://www.youtube.com/watch?v=OFYwACKQdWE
Manufacturing & Machinery: https://www.youtube.com/watch?v=alX2YuQ2gi8
Semiconductor, Materials, & Electronics: https://www.youtube.com/watch?v=FULmOW3hLO4