DOST-ERDT holds its 14th Conference in Cebu,
Philippines, joint with ICSEE and AEESEAP
Ensuring access to affordable, reliable, and sustainable energy paves the way to achieving economic growth and improved living conditions which are essential components of sustainable development. Energy plays a pivotal role in sustaining the operations of our industries, public institutions, households, and communities. Adequate, efficient and steady supply of energy is linked to increase in productivity, improved and quality products and services, reduced capital and operating costs, and safer workplace. Given our limited energy resources and increasing energy demands, different sectors are now looking at various possibilities and options in order to provide the needed energy to achieve and sustain economic and social progress.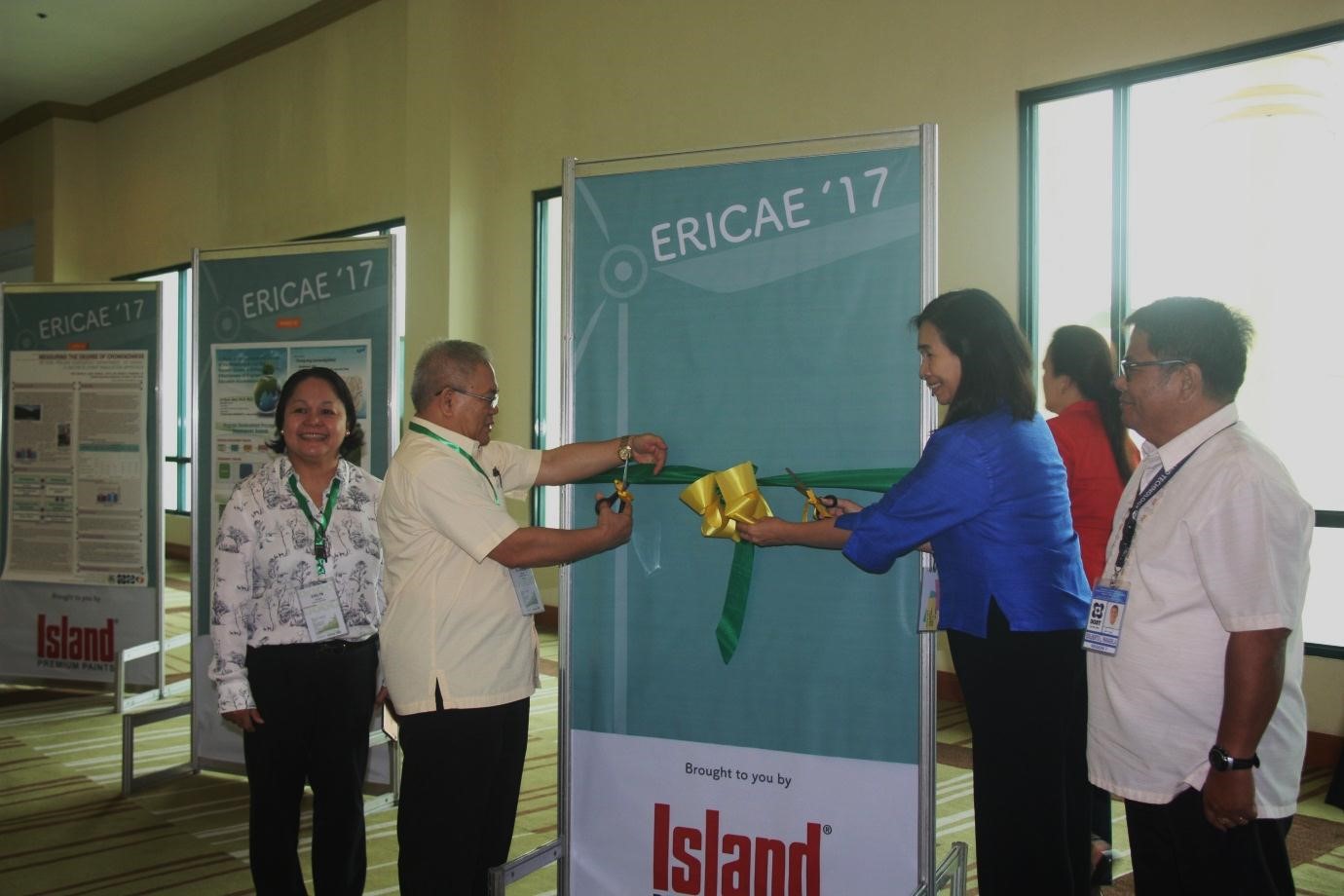 USC President Fr. Dionisio Miranda and DOST-ERDT Program Leader Dr. Rizalinda L. de Leon open formally the 3-day joint conference during the ribbon cutting ceremony.
The Science and Technology community is challenged to contribute to the attainment of sustainable energy for all and sustainable development, in a broader sense.  In response, the Department of Science and Technology – Engineering Research and Development for Technology (DOST-ERDT) organized its 14th ERDT Conference last 18-20 October 2017 at Waterfront Cebu City Hotel and Casino, Salinas Drive Lahug Cebu City, Cebu.
The 14th ERDT Conference was co-located with the 2017 Association for Engineering Education in Southeast and East Asia and the Pacific Workshop (AEESEAP) and 27th Executive Committee Meeting and 2017 International Conference on Sustainable Energy Ecosystems (ICSEE).
There were three themes for these joint conferences with sustainable energy as the main encompassing theme; "Aligning ERDT Researches to the Sustainable Development Goals" (ERDT), "Engineering Education in the Era of the 14th Industrial Revolution" (AEESEAP), and "Access to Sustainable Energy for All" (ICSEE).
The joint conferences were attended by 385 participants composed of faculty members, engineering graduate students and scholars, industry, government, and visiting professors.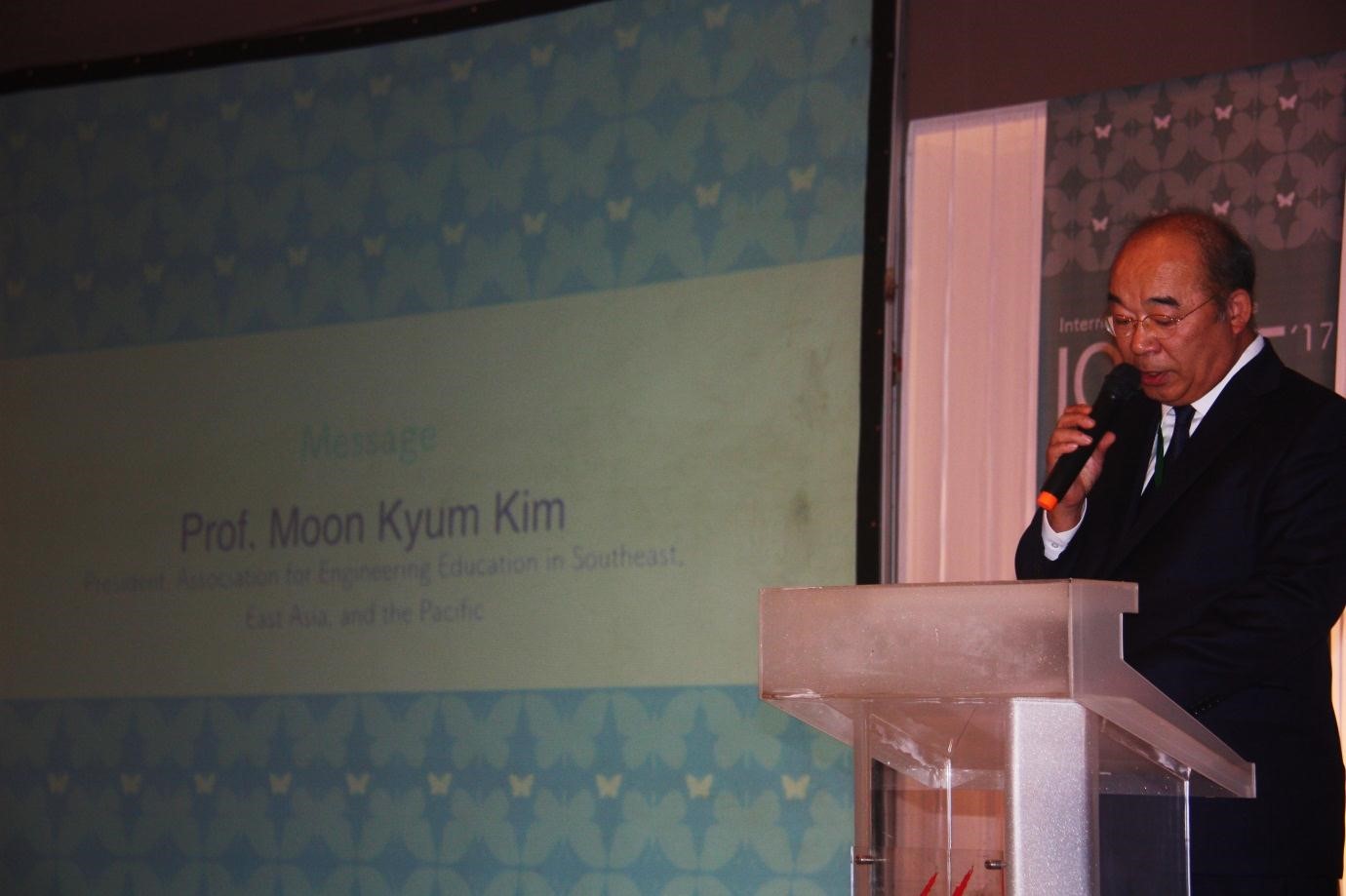 AEESEAP President Prof. Moon Kyum Kim delivers his message for the participants of the joint conferences during the second day.
University of San Carlos (USC) President Fr. Dionisio Miranda, SVD, SThD and University of the Philippines College of Engineering Dean and ERDT Program Leader Dr. Rizalinda de Leon welcomed the delegates on the first day of the conference by posing a challenge on the roles of engineers and researchers in attaining sustainable development for all. On the second day, AEESEAP President Prof. Moon Kyum Kim delivered a message. The third day was opened by USC School of Engineering Director for Center for Research in Energy Systems and Technologies Dr. Luzvisminda M. Bellotindos.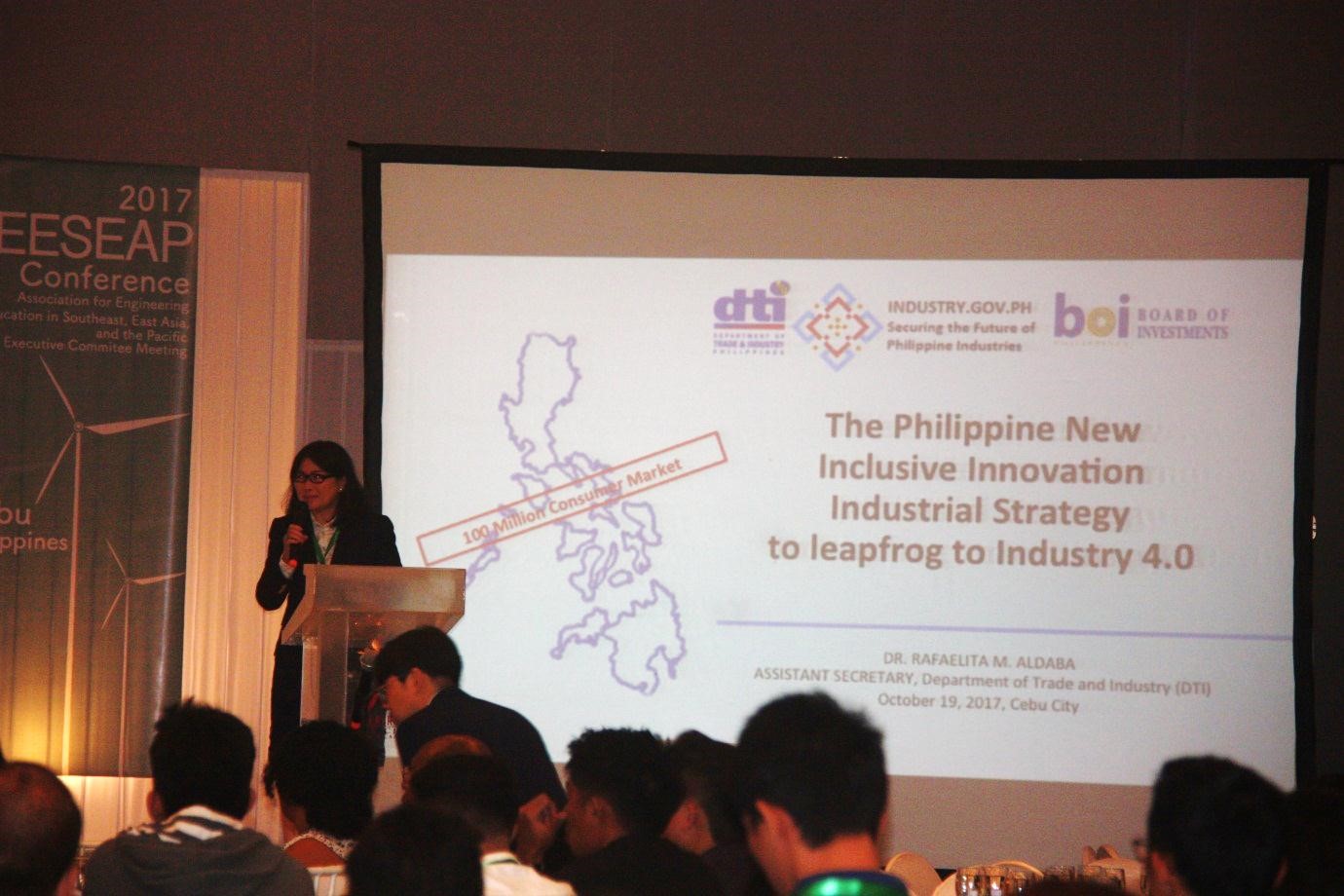 Department of Trade and Industry Assistant Secretary Dr. Rafaelita M. Aldaba shares the Philippine government plans and initiatives in advancing industries.
Among the speakers who gave plenary presentations are:
| | | |
| --- | --- | --- |
| Speaker | Affiliation | Title of Presentation |
| Prof. Kiyoshi Saito | Department of Applied Mechanics and Aerospace Engineering, School of Fundamental Science and Engineering, Waseda University | Latest R&D of Heat Pump Technologies |
| Prof. Joey D. Ocon | Department of Chemical Engineering, College of Engineering, University of the Philippines Diliman | Dawn of the Age of Giant Batteries: Energy Storage for Renewable Energy Integration |
| Prof. Maria Antonia N. Tanchuling | Institute of Civil Engineering, College of Engineering, University of the Philippines Diliman | Sorting Out the Garbage Crisis: Issues and Challenges |
| Prof. Nobumasa Sekishita | Department of Mechanical Engineering, Toyohashi University of Technology | Importance of Wind Tunnel Testing for Atmospheric Environments in Southeast Asia |
| Prof. John Richard E. Hizon | Electrical and Electronics Engineering Institute, University of the Philippines Diliman | Taking Advantage of "More than Moore" Technologies: the UP MicroLab Approach |
| Dr. Shigaru Azuhata | Japanese Society for Engineering Education | Engineers in a Corporate R&D |
| Dr. Rafaelita M. Aldaba | Department of Trade and Industry | Philippine Government Initiatives to Leapfrog to the 4th Industrial Revolution |
| Prof. Hyoungkwan Kim | School of Civil and Environmental Engineering, Yonsei University | Construction Information technology for the Post-Information Age |
| Prof. Prospero Naval, Jr. | Department of Computer Science, College of Engineering, University of the Philippines Diliman | Opportunities and Initiatives to Develop Philippine Human resources in Al and Data Science |
| Prof. AbuBakr S. Bahaj | Division of Energy and Climate Change, University of Southampton | Sustainable Energy Systems – Impacts on Emissions and Development |
| Michael Lochinvar S. Abundo, PhD | Rolls-Royce @ NTU Corporate Laboratory and OceanPixel | Marine Renewable Energy in Southeast Asia: Status, Developments and Direction |
| Alcrhis Go, PhD | Department of Chemical Engineering, University of San Carlos | Biofuels in the Philippines: Current Scenario |
| Isabel A. Rabuya, MSc | Department of Electrical and Electronics Engineering, University of San Carlos | Energy Efficiency in Buildings: Opportunities and Challenges |
| Lorafe F. Lozano, MEng | Department of Industrial Engineering, University of San Carlos | Sustainable Energy Access in Off-Grid Island Communities |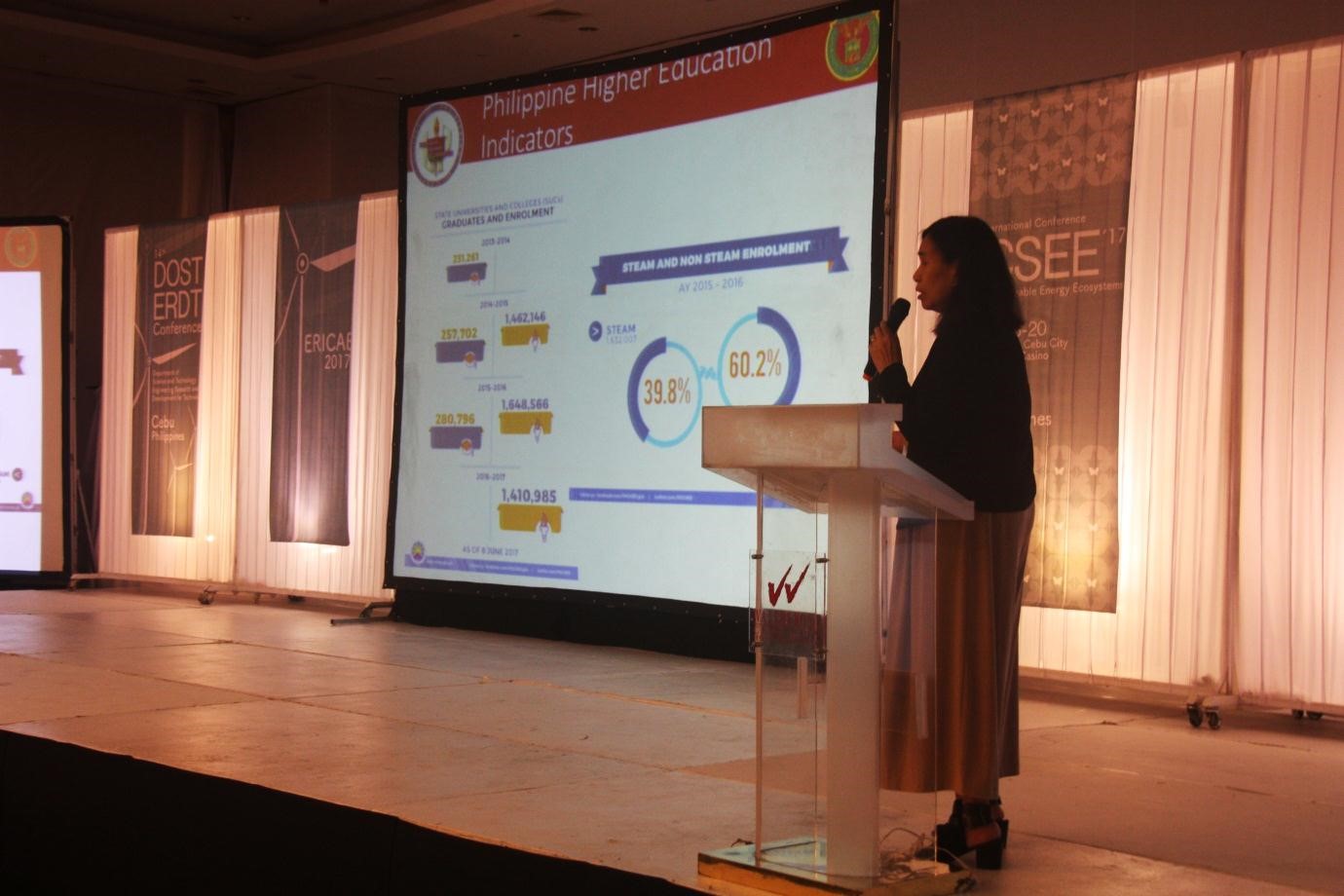 DOST-ERDT Program Leader presents the state of engineering education in the Philippines during the AEESEAP Country Reports.
A total of more 90 research papers by mostly ERDT scholars were presented during the technical sessions. Eight country reports on the state of engineering education were delivered during the AEESEAP special session. These countries include Indonesia, Japan, Korea, Papua New Guinea, the Philippines, China, Singapore, and Malaysia.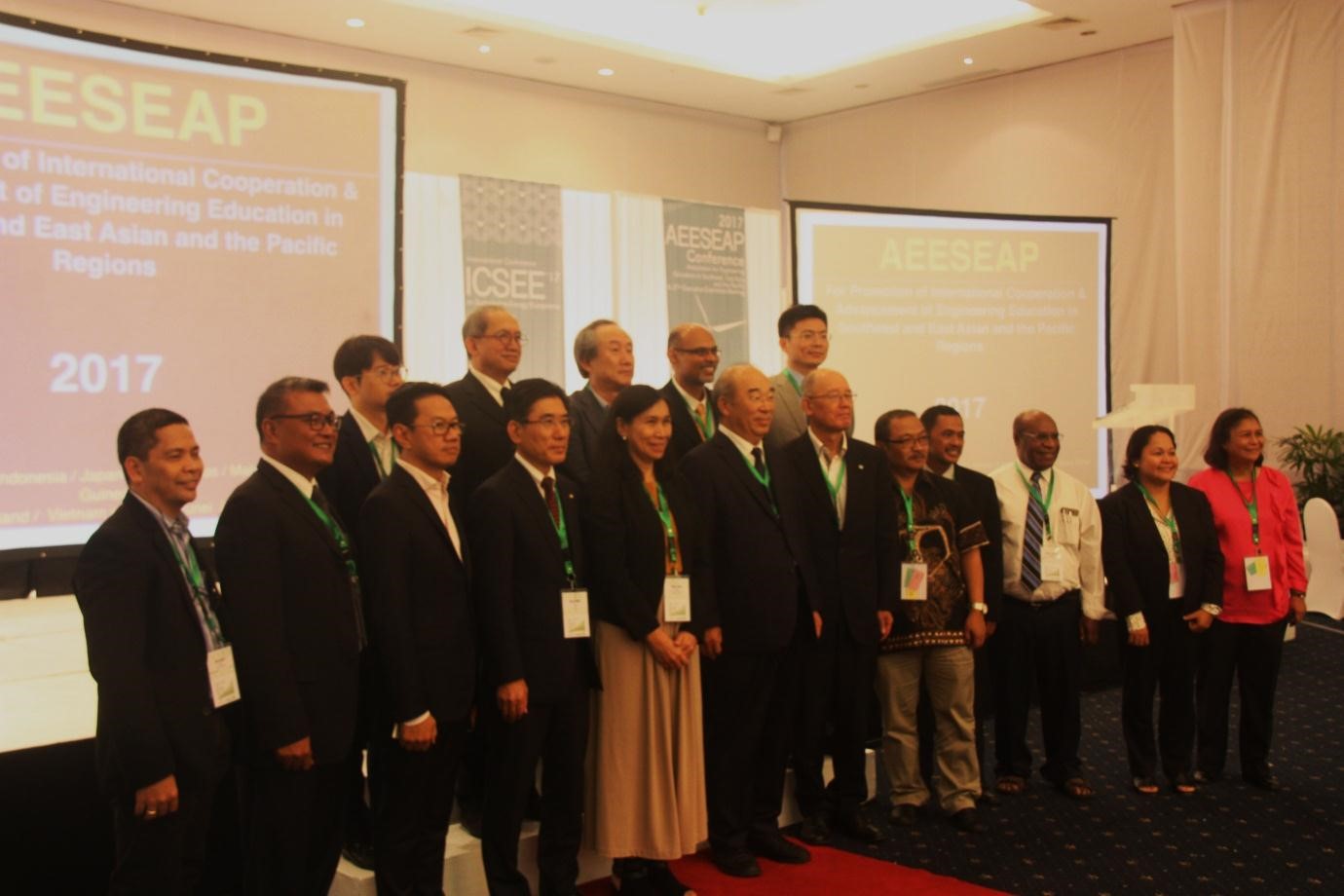 Members and delegates of AEESEAP pose for a group photo after the presentation of country reports.
USC College of Engineering Dean Dr. Evelyn B. Taboadoa formally closed the 3-day conference by expressing her gratitude to all partners, co-organizers, participants, and secretariat.