2012 IEEE Region 10 Conference
(IEEE TENCON 2012) Co-located
with 8th ERDT Conference
Dr. Joel Joseph S. Marciano, Jr.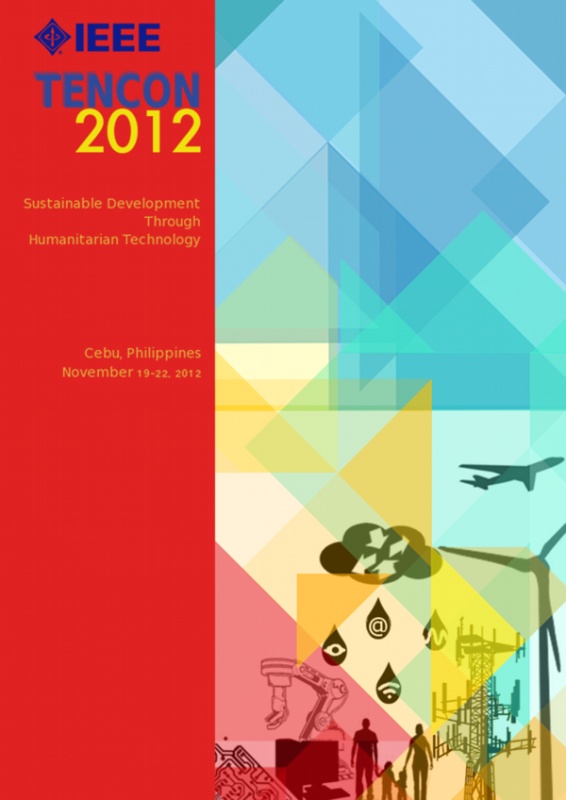 The 2012 IEEE Region 10 Conference (IEEE TENCON 2012) was successfully held last November 19-22, 2012 at the Radisson Blu Hotel in Cebu, City with the theme "Sustainable Development Through Humanitarian Technology". The IEEE TENCON 2012 received valuable support from the Engineering Research and Development for Technology (ERDT) program of the Department of Science and Technology (DOST).
The IEEE TENCON 2012 was co-located with the 8th ERDT Conference. A total of 346 manuscripts were submitted, with all papers undergoing a blind peer review process. A total of 172 papers out of the 346 submissions were accepted and presented in the conference. Submissions came from different countries – reflecting the international status of the IEEE TENCON. This also provided an outstanding venue for research activities undertaken by ERDT universities to be presented before an international audience. Table 1 shows the country affiliations of all authors who submitted papers to IEEE TENCON 2012. A total attendance of over 800 people was recorded during the entire duration of the conference. The organizing committee of IEEE TENCON 2012 is shown below.
The keynote speaker for the IEEE TENCON plenary session on Day 1 was ERDT Visiting Professor Paul Berger of Ohio State University, who talked about Plasmonics, Durability and Encapsulation of Organic Photovoltaics. Plenary speakers during the first day included the Chancellor of the University of the Philippines Diliman, Prof. Caesar A. Saloma (Simultaneous application of constraints in filter-based fluorescence spectral microscopy) and Prof. Gary Yen from Oklahoma State University (State-of-the-Art Evolutionary Algorithms for many objective optimization and applications), another ERDT Visiting Professor. The second day featured the plenary session for the 8th ERDT Conference. The keynote speech was delivered by Prof. Oussama Khatib from Stanford University, who talked about Robots and the Human. Plenary speakers for Day 2 included Prof. Toshio Fukuda of Nagoya University (Human Centered Service Robotics) and Prof. Eryk Dutkiewicz of Macquarie University (Medical Wireless Body Area Networks to Support Future Ubiquitous Health Monitoring and Treatment). The plenary session for Day 3 featured a talk by Prof. Tan Kay Chen from the National University of Singapore. In his talk, Prof. Chen discussed current advances in evolutionary multi-objective optimization. A total of 53 breakout sessions was held with topics ranging from Computer Architecture, Circuits & Systems, Robotics and Mechatronics, Power & Energy, Networks, Signal Processing, Software & Database Systems, Computational Intelligence to Power Electronics. A feature of the 2012 IEEE TENCON was the special session on Humanitarian Technology and Women in Engineering.
The IEEE TENCON 2012 and the 8th ERDT Conference had the distinct honor of having the immediate past Director of IEEE Region 10 Yong Jin Park, the current Director Prof. Lawrence Wong and the Director-elect for 2013 Prof. Toshio Fukuda in attendance.
Table 1 IEEE TENCON 2012 Authors by country 
Authors by Country (All Papers)

All authors of submitted papers are counted. Authors are counted once for each paper.

 
 
 
 
 

Country

Authors

%

Papers (1st author)

%

Philippines

269

31.2

101

32.4

India

150

17.4

65

20.8

Japan

98

11.4

31

9.9

Korea

93

10.8

28

9

Malaysia

32

3.7

15

4.8

Taiwan

24

2.8

5

1.6

Australia

21

2.4

9

2.9

Bangladesh

21

2.4

5

1.6

Singapore

20

2.3

6

1.9

United Kingdom

19

2.2

5

1.6

Thailand

13

1.5

5

1.6

Indonesia

12

1.4

4

1.3

Sri Lanka

12

1.4

3

1

Iran

12

1.4

6

1.9

USA

12

1.4

1

0.3

Turkey

10

1.2

3

1

Pakistan

8

0.9

5

1.6

Vietnam

7

0.8

2

0.6

P.R. China

6

0.7

3

1

Brazil

3

0.3

1

0.3

New Zealand

3

0.3

1

0.3

France

3

0.3

1

0.3

Canada

3

0.3

1

0.3

Germany

2

0.2

1

0.3

Saudi Arabia

2

0.2

2

0.6

Poland

2

0.2

1

0.3

Sweden

2

0.2

0

0

Ethiopia

1

0.1

1

0.3

Nepal

1

0.1

1

0.3

Algeria

1

0.1

0

0

Total

862