12th ERDT Conference highlights Human
Resource Development in Agriculture
The 12th Engineering Research and Development for Technology (ERDT) Conference co-located with 11th Annual Technical Committee and Governing Council Meetings of the United Nations Economic and Social Commission – Center for Sustainable Agricultural Mechanization (UNESCAP CSAM), 3rd Regional Forum on Sustainable Agricultural Mechanization in Asia and the Pacific, and 3rd ASEAN Conference on Agricultural and Biosystems Engineering was held last 9-11 December 2015 at the Century Park Hotel, Manila.
Attended by hundreds of foreign and local participants, the joint conferences successfully discussed pressing issues in the field of agriculture and agricultural mechanization. The theme of the conference was "Human Resource Development for Sustainable Agricultural mechanization".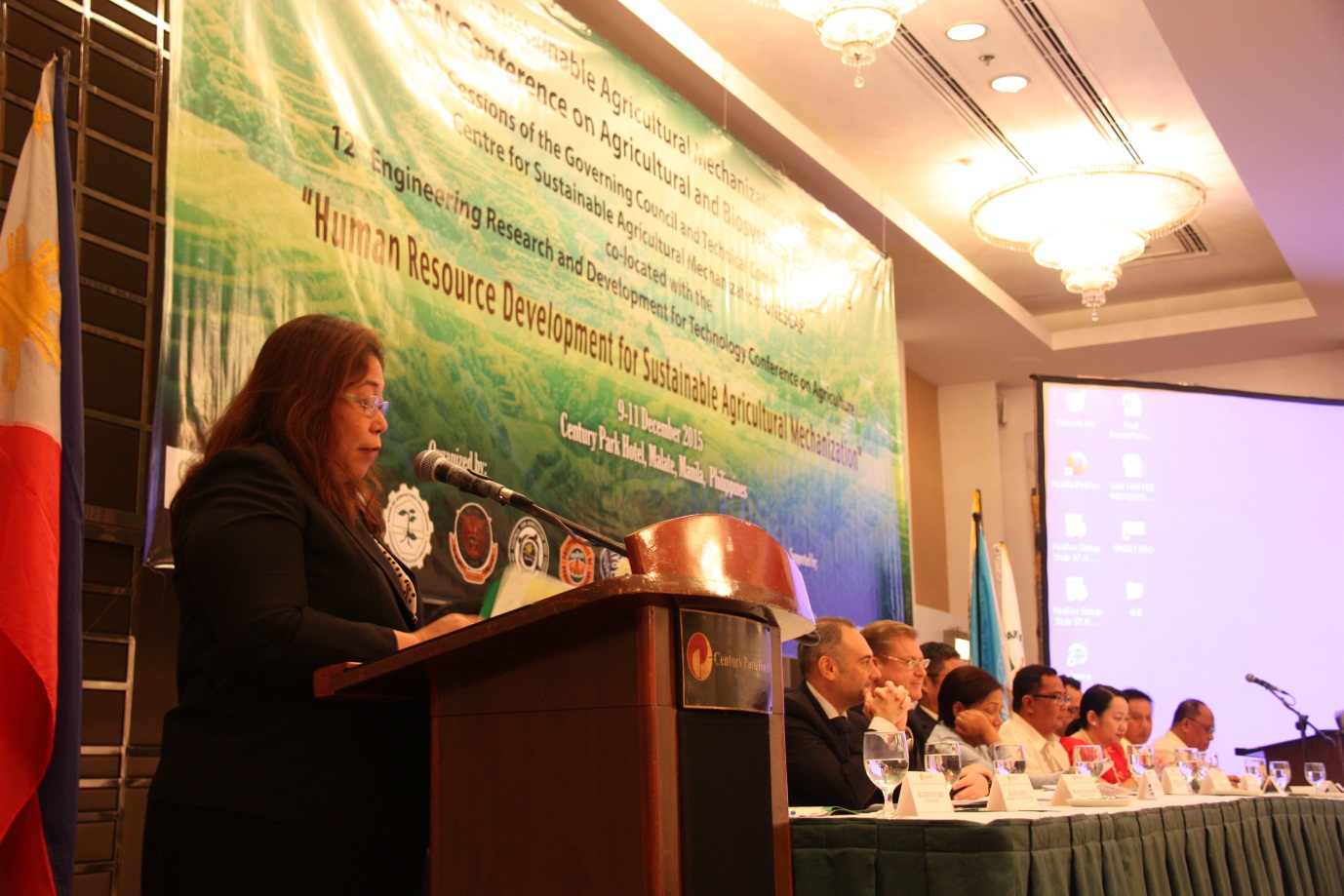 ERDT Program Leader Dr. Aura C. Matias delivers her welcome remarks at the 12th ERDT Conference co-located with other three events.
The joint conferences aimed to highlight the role of human resource development as a strategic pillar in the attainment of a sustainable agricultural mechanization in Asia and the Pacific, establish linkages and exchange of information between and among the countries in Asia and the Pacific on agricultural mechanization and human resource development, and  facilitate cooperation actions and mechanisms between and among different stakeholders in the field of human resource development for agricultural mechanization within the region.
Aside from ERDT, the joint conferences were organized by UNESCAP CSAM, Board of Agricultural Engineering of the Philippine Professional Regulation Commission, University of the Philippines – Los Baños College of Engineering and Agro-Industrial Technology, Philippine Council for Agriculture and Fisheries, and the Philippine Society of Agricultural Engineers.