7th ENGINEERING RESEARCH AND DEVELOPMENT FOR TECHNOLOGY CONGRESS
Held last 13 July 2018 at the Philippine International Convention Center - Reception Hall, the 7th Engineering Research and Development for Technology Congress was envisioned and designed to provide a platform for the better understanding of the dynamics between and among engineering, humanities and social science.
Dr. Rizalinda L. De Leon, Dean of UP College of Engineering and Program Leader of ERDT, formally started the event by thanking the wide array of audience consist of government and industry delegates, social scientists, artists and ERDT scholars for their presence. Dr. De Leon presented a preview of the discussions by briefly sharing the importance of cooperation between the different fields in order to address pressing social issues and concerns.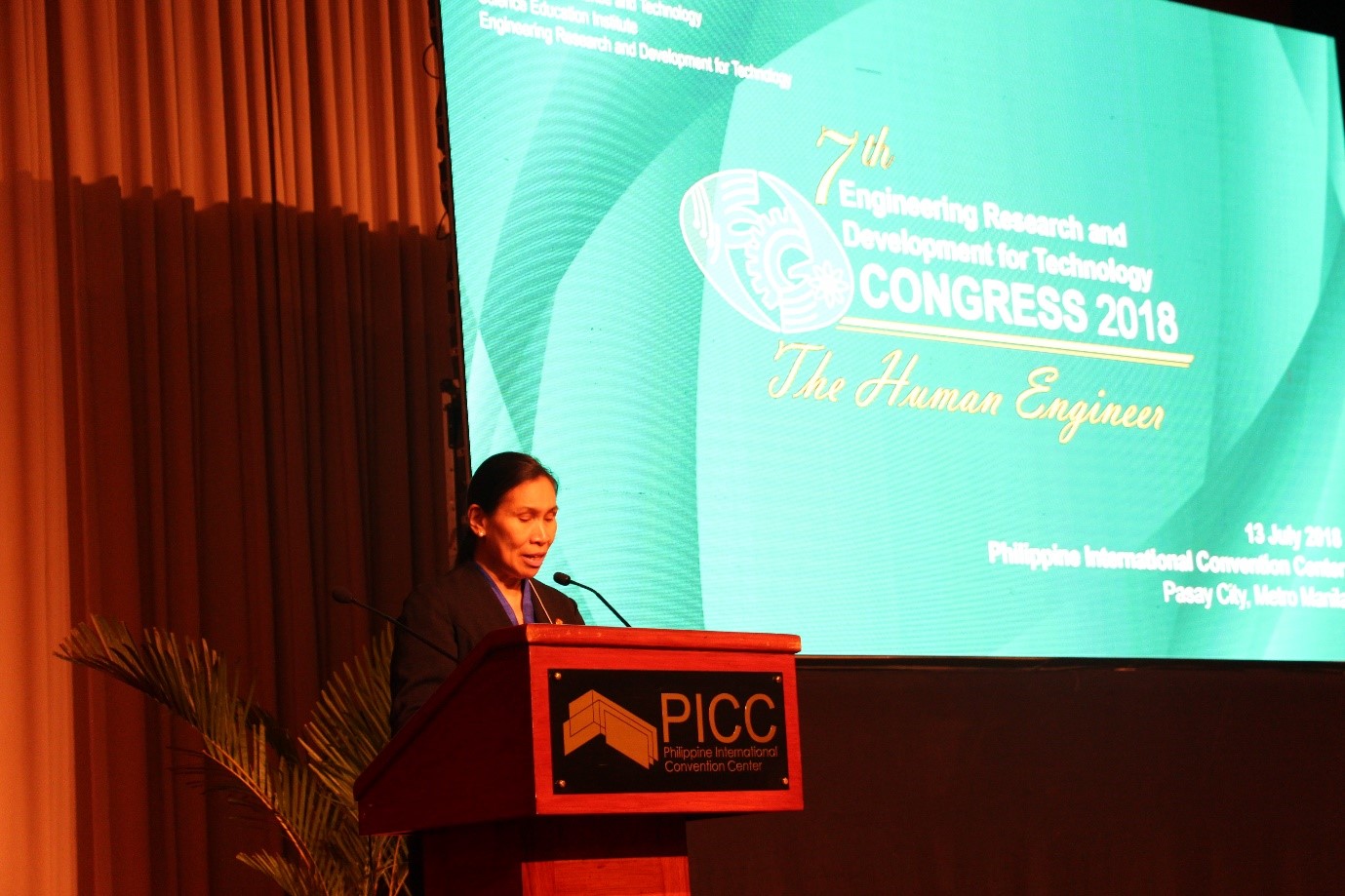 Dr. Rizalinda L. De Leon delivering her Welcome Remarks.
Dr. Rowena Cristina L. Guevara, Undersecretary for Research and Development of the Department of Science and Technology and the First Program Leader of ERDT, backtracked to when ERDT was founded to revisit the purpose of the program and to highlight that ERDT was founded to be an investment for global competitiveness. Dr. Guevara also explained to ERDT scholars how crucial their roles are in developing a culture of Science and Technology (S&T) in the Philippines. Alongside this, Dr. Guevara also challenged the scholars to charge forward and create designs that will improve the lives of Filipinos through commercialization of new and emerging technologies and products of government-funded Research and Development (R&D).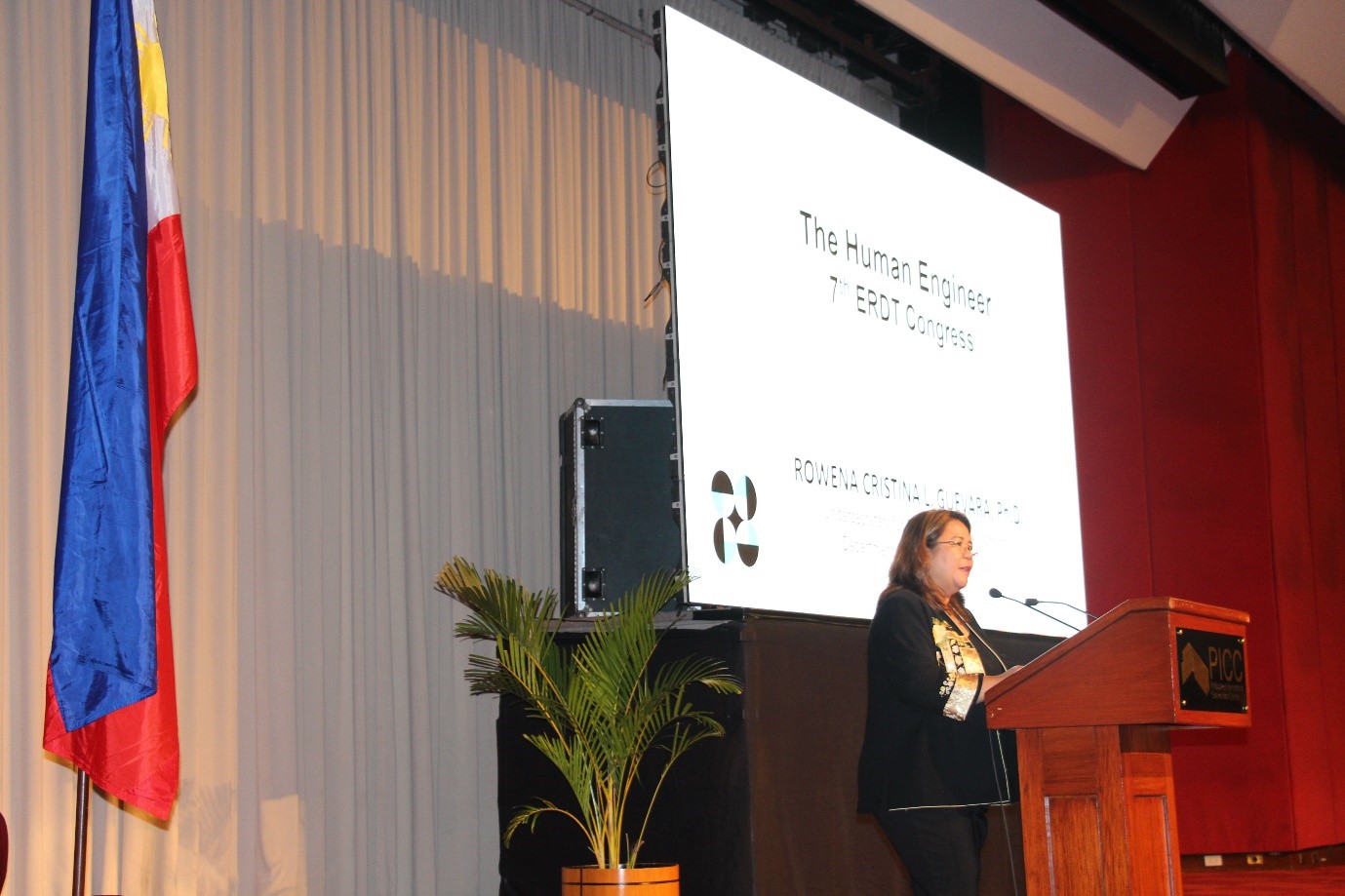 Dr. Rowena Cristina L. Guevara delivering her keynote speech.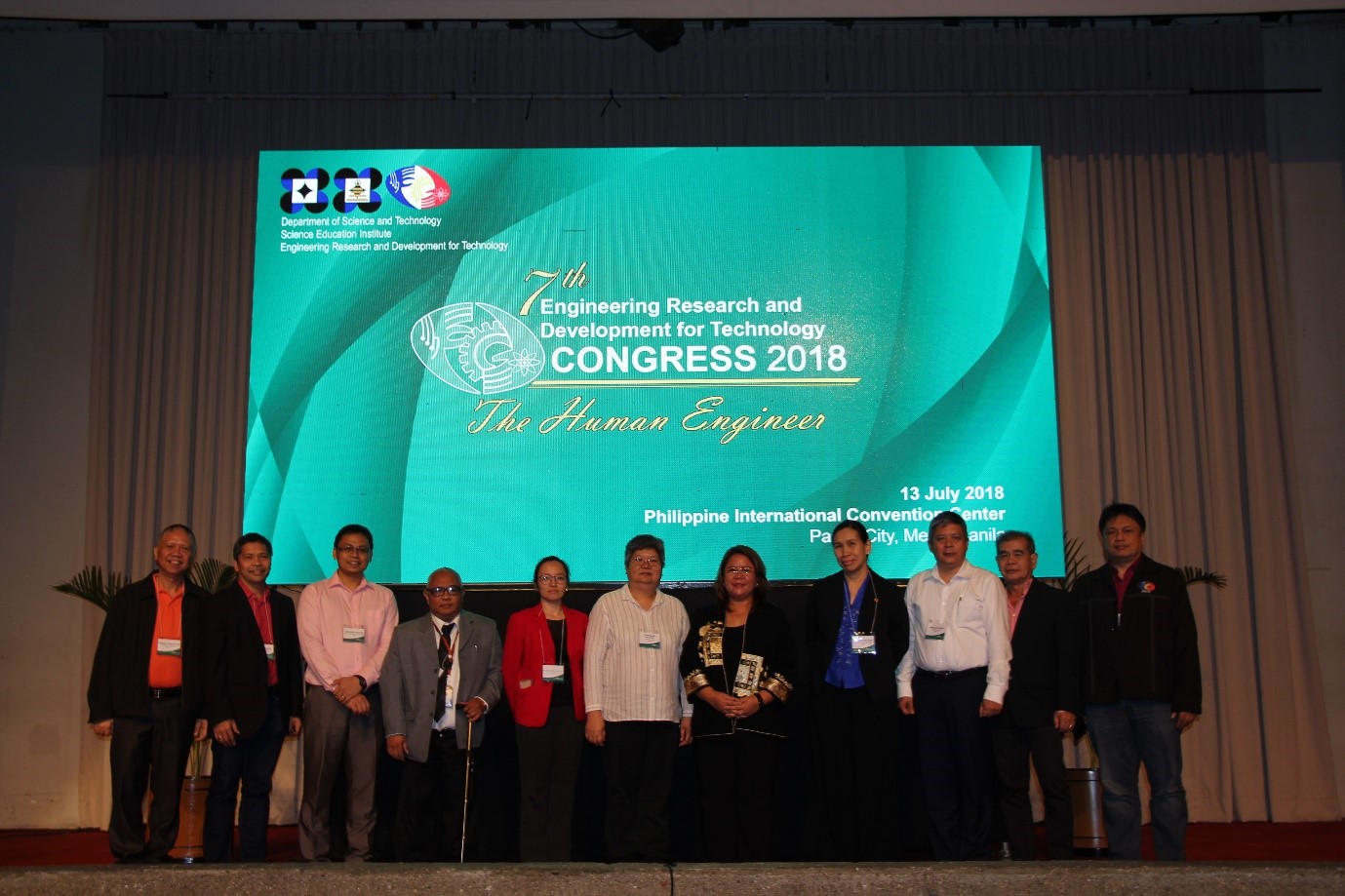 ERDT Officials presented Dr. Guevara with a Certificate of Appreciation.
In her plenary talk, Dr. Jazmin B. Llana further strengthened the principle of "engineering for the people" that was already incorporated in Dr. Guevara's keynote speech by explaining how engineers should constantly and continuously reflect on their humanity in order to remember the bigger picture that underlies their profession.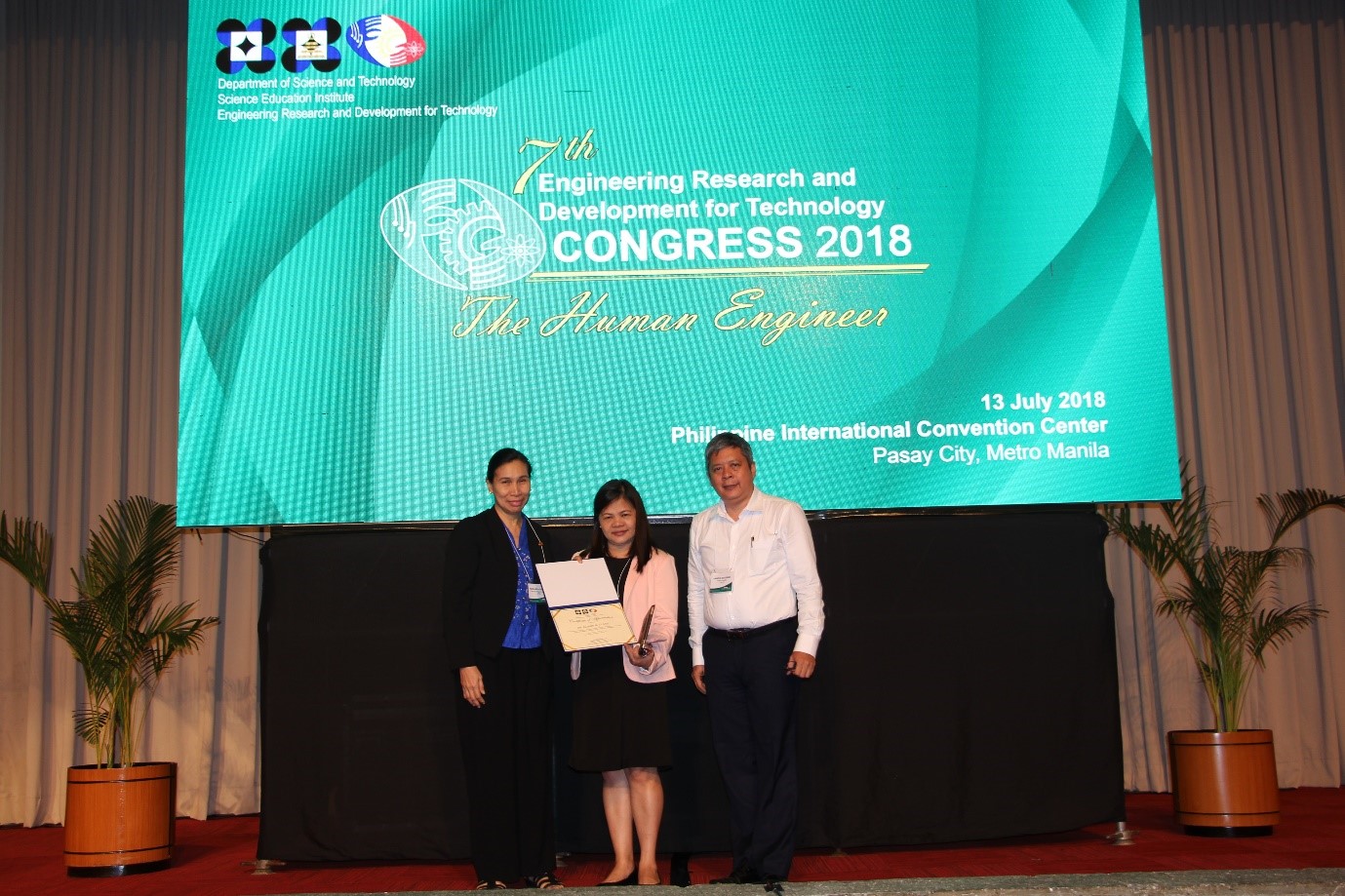 Dr. Llana receiving her Certificate of Appreciation.
The Poster Competition commenced before the continuation of the plenary talks. Thirty-seven (37) abstracts were pre-selected to proceed to the Poster Competition. Judging panels of the different ERDT R&D tracks --- Energy, Environment and Infrastructure, Information and Communications Technology, Manufacturing and Machinery, and Semiconductors, Materials and Electronics evaluated the posters while corresponding authors explained the highlights of their studies.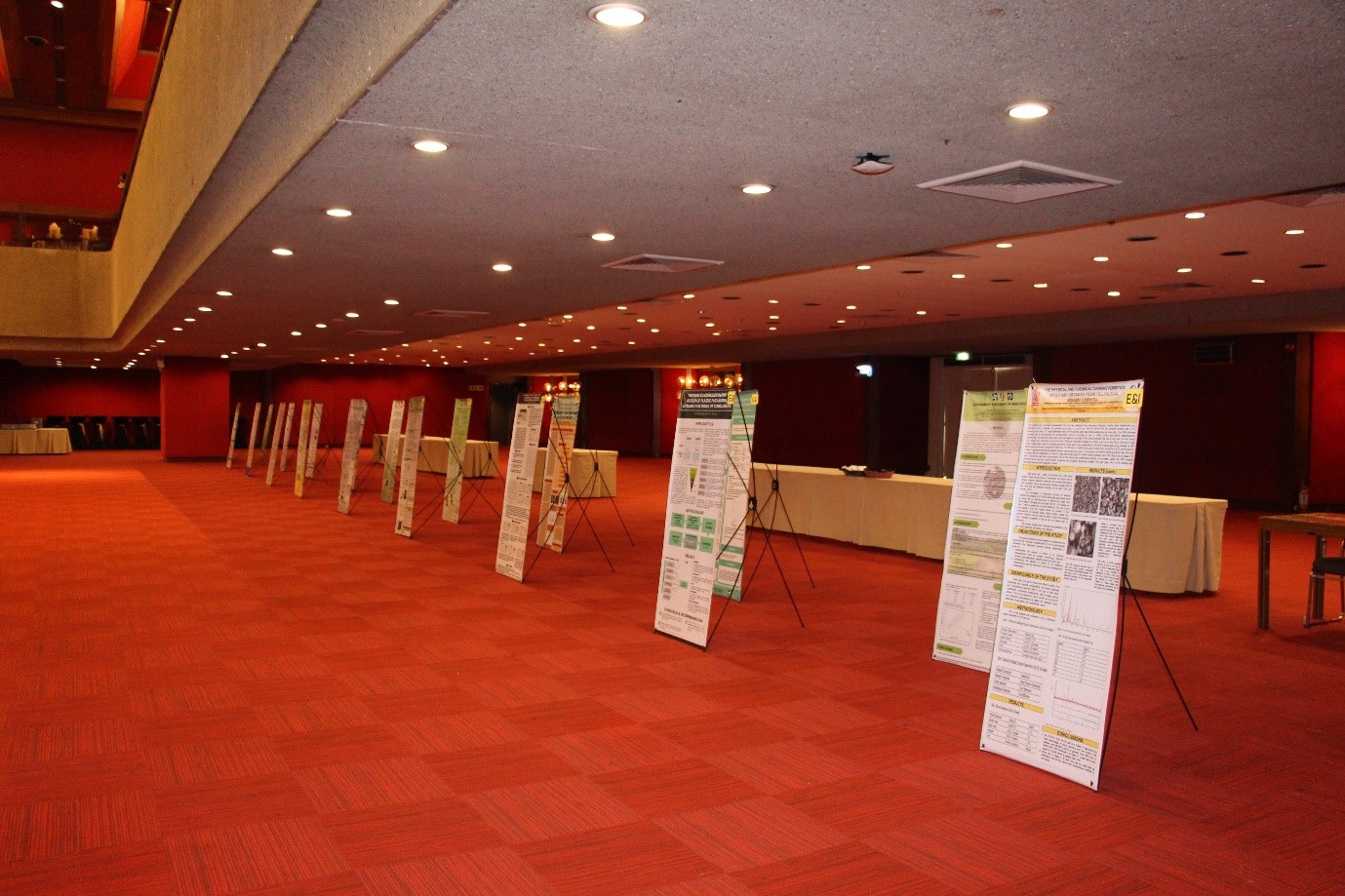 Posters categorized under the different ERDT R&D Tracks.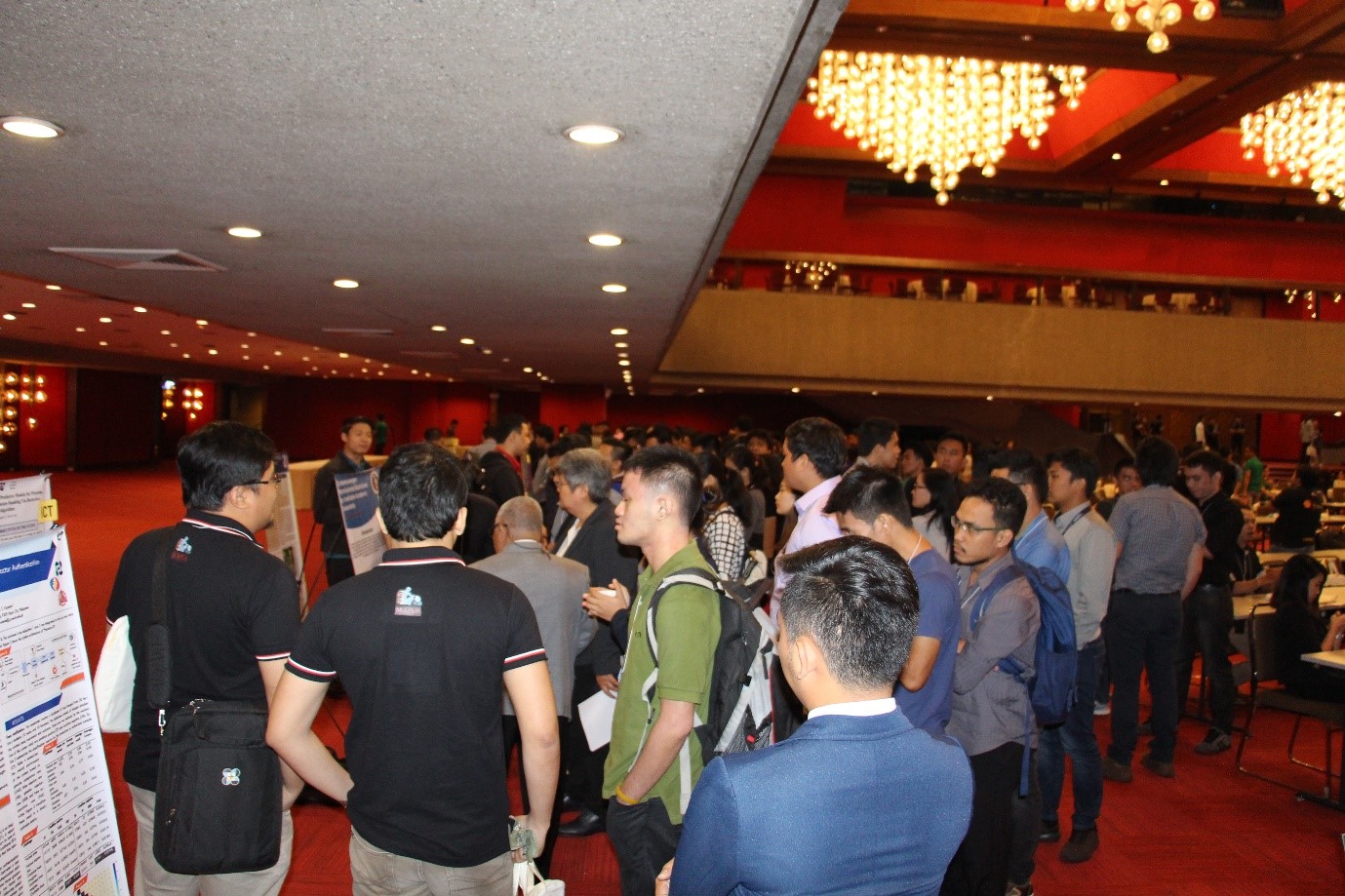 Judging Panels and participants gather around the posters to listen to the explanation of the corresponding authors.
The plenary talks resume right after the Poster Competition. Prof. Leonardo C. Rosete, Dean of UP College of Fine Arts discussed "Arts in Engineering". Prof. Rosete pointed out how design, which he described as the 'integration of engineering process with an art lens', perfectly reflects how engineering is not just about creation and durability but also aesthetic. Prof. Rosete posits that better appreciation of engineering can be found by rediscovering the beauty in designs.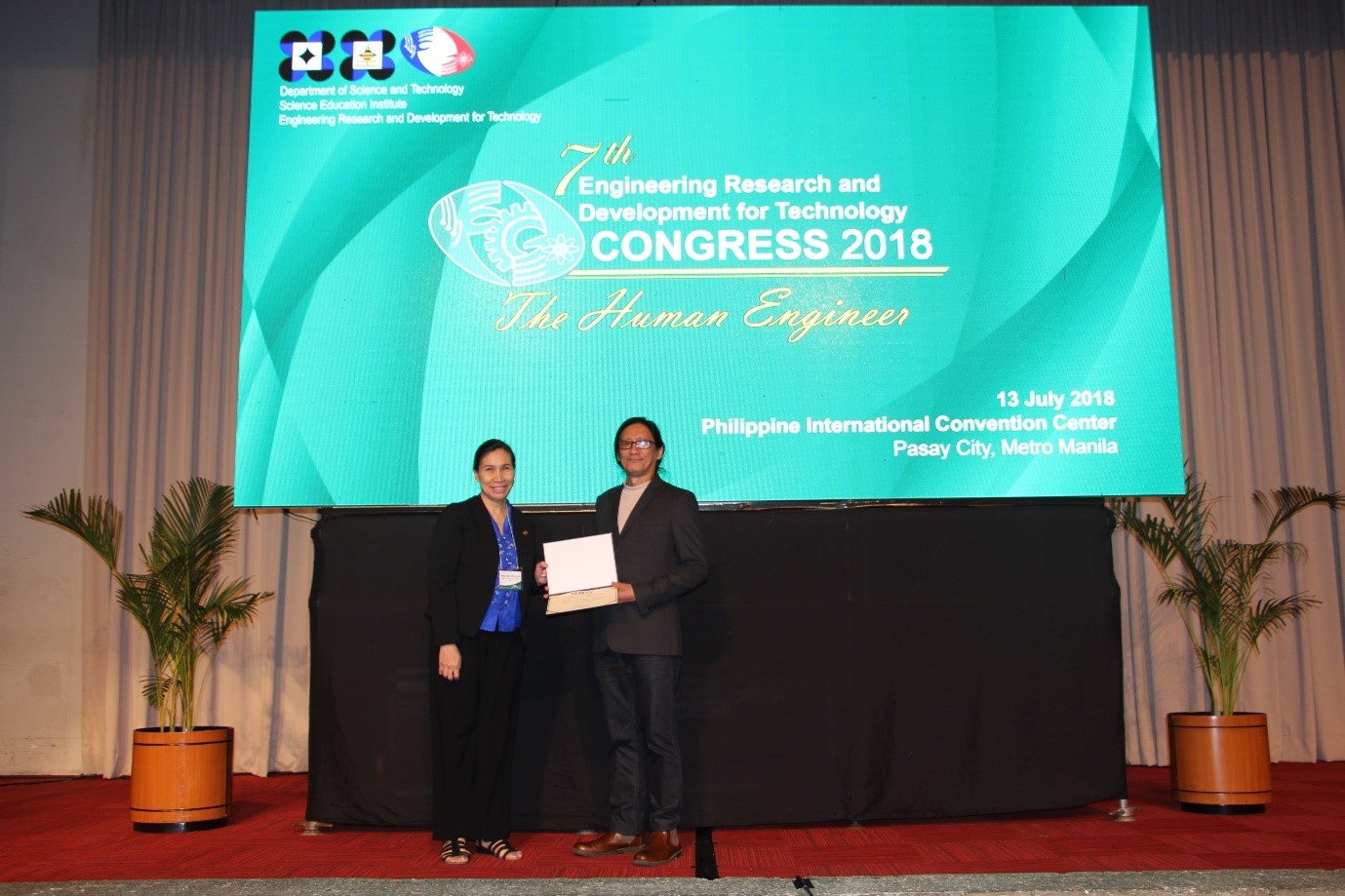 Dr. Rizalinda presented a Certificate of Appreciation to Prof. Rosete.
 Meanwhile, Prof. Jerry R. Yapo --- Director of the Office for Initiatives in Culture and the Arts of the University of the Philippines – Los Baňos, explored the topic "Humanities in Engineering". Prof. Yapo argued that it is creativity that fuels innovation. He further explained this idea by providing examples wherein engineers and scientists found inspiration in human experiences. He also emphasized that despite the differing natures of engineering and humanities, these fields meet on a point of convergence characterized by discovery, wonderment and imagination.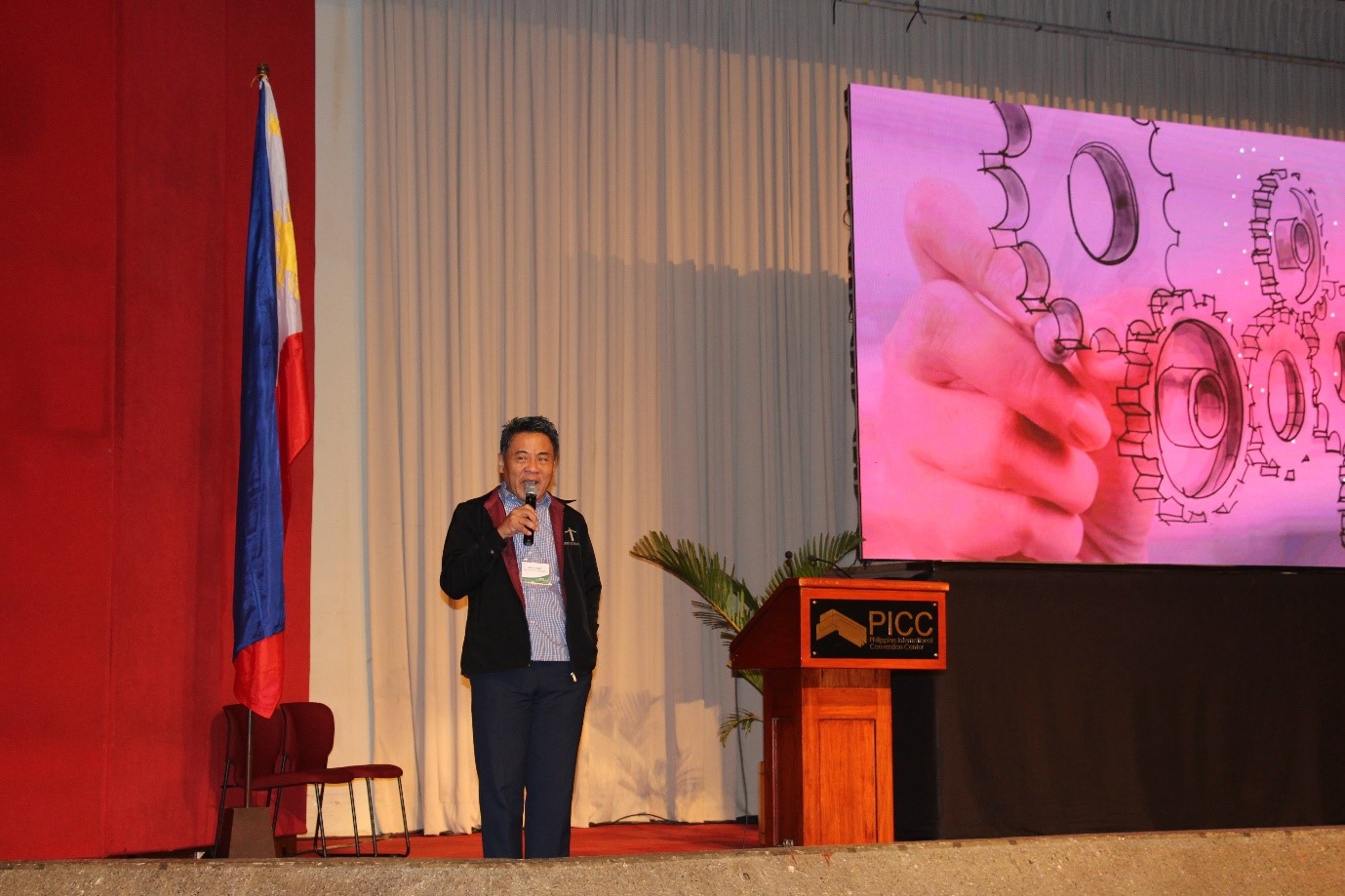 Dr. Yapo sharing his insights on the topic "Humanities in Engineering".
The last plenary talk was that of Fr. Bienvenido F. Nebres --- Former President of Ateneo de Manila University. Fr. Nebres grounded his discussion with the two engineering challenges (mass transportation systems and managing water) that greatly affects the Philippine society today. Fr. Nebres explained how the demand for adjustments from communities, new engineering and technical expertise and leadership competence shall serve as components in preparing for the future.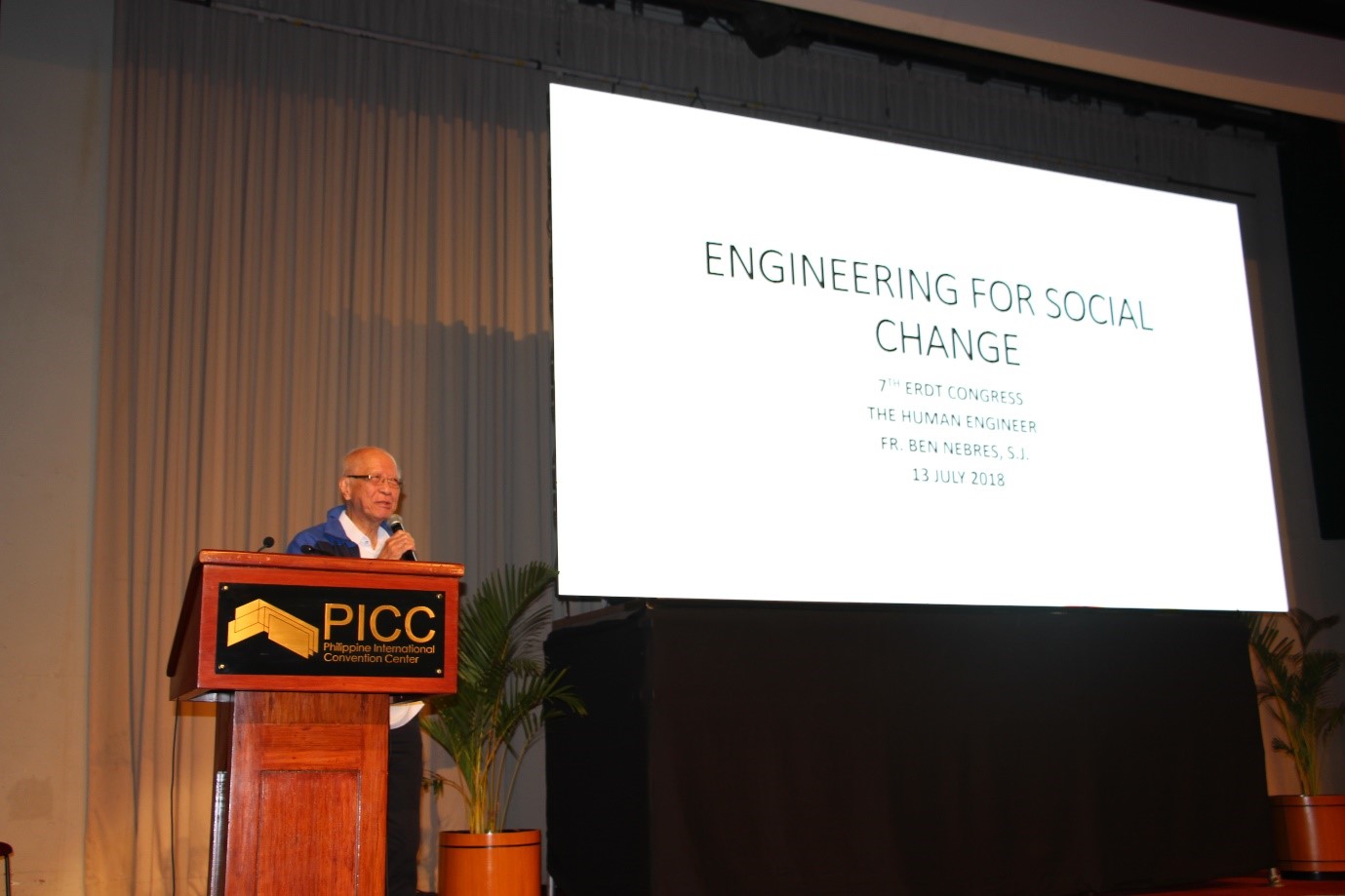 Fr. Nebres intrigued the audience by saying that the Philippines never undergo an Industrial Revolution.
After the plenary talks, participants where given the chance to raise questions to and share their insights with the speakers. A vast array of inquiries emanating from personal experiences to larger societal pictures were asked. Members of the Ateneo Blue Symphony Orchestra also entertained the audience with their rendition of Filipino songs Leron-leron Sinta and Limang Dipang Tao during their intermission.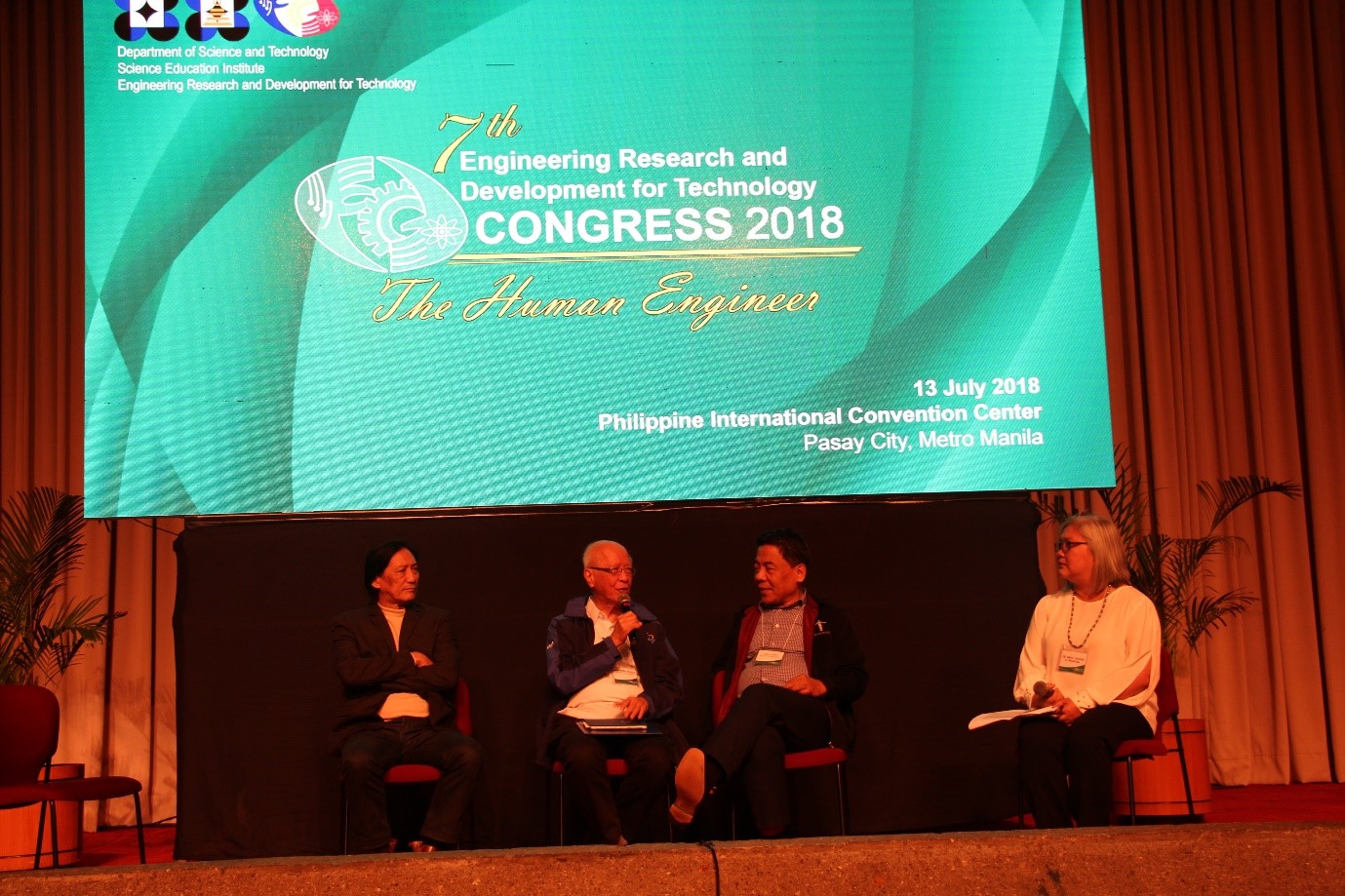 Dr. Elepaňo and Dr. Tanchuling facilitated the Open Forum.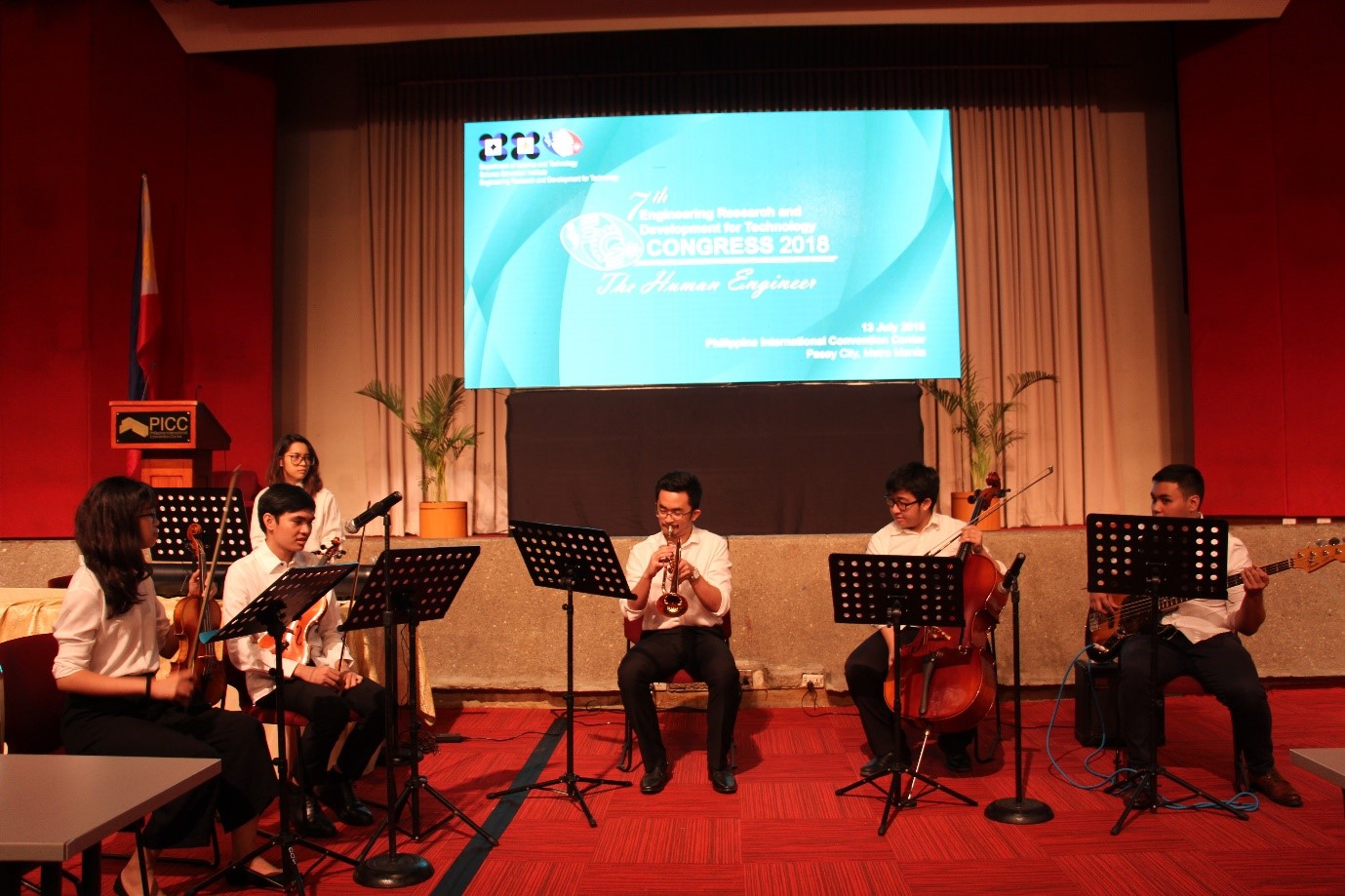 The Ateneo Blue Symphony Orchestra performed Filipino songs for their intermission.
Authors with best posters were awarded. They are Catherine Joy M. Dela Cruz and Gerard Lorenz D. Maandal for the Energy Track, Krister Ian Daniel Z. Roquel for the Environment and Infrastructure Track, Daryl P. Pongcol and Timothy M. Amado for the Information and Communications Technology Track, Leizl M. Jabile for the Manufacturing and Machinery Tack, and Joshua B. Zoleta for the Semiconductors, Materials and Electronics Track.
Engr. Albert Mariňo, Deputy Director of the Science Education Institute, delivered the Closing Remarks in behalf of Dr. Josette T. Biyo. In his speech, Engr. Mariňo pledged SEI's continuous support to the ERDT program.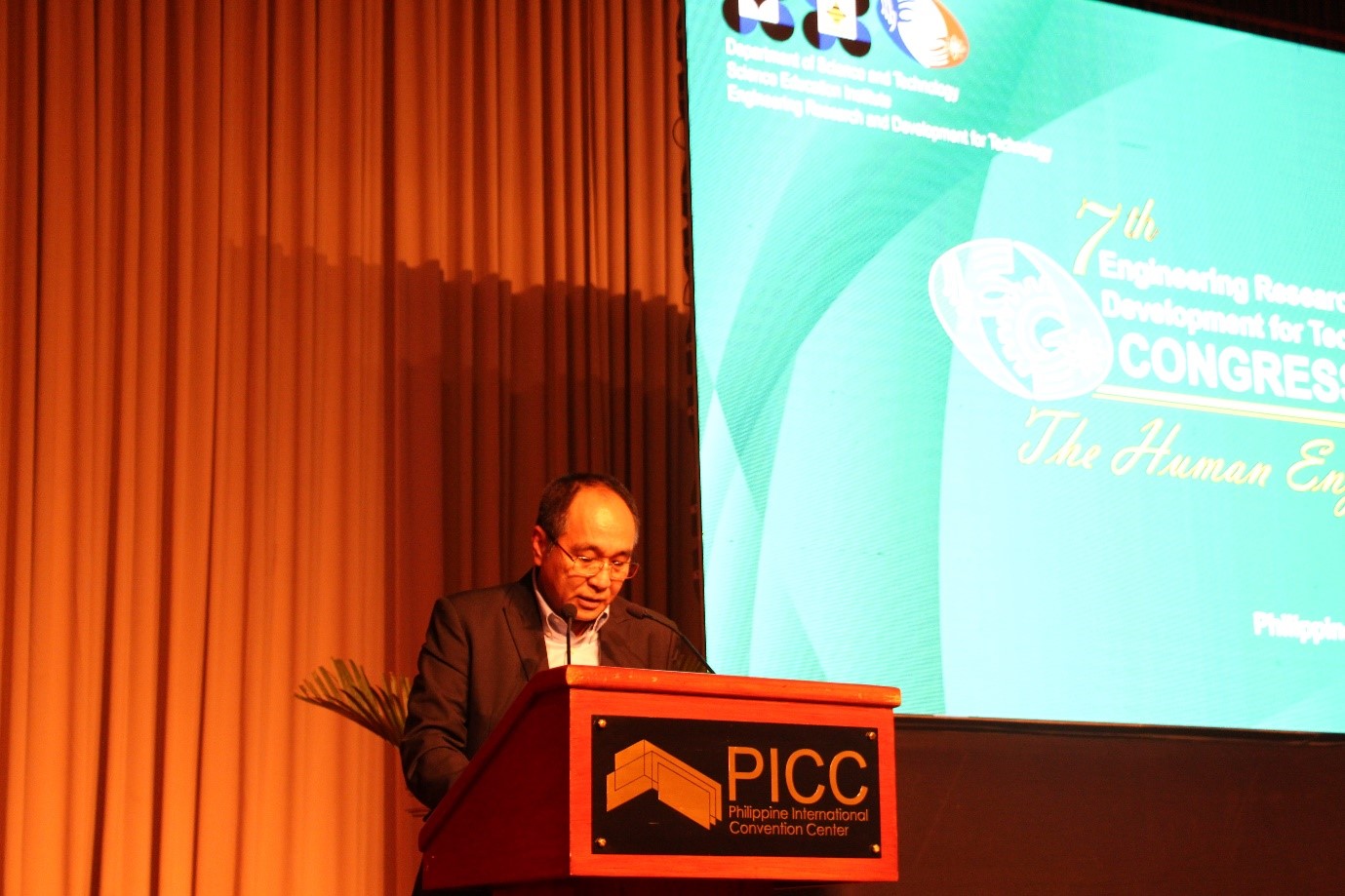 Engr. Mariňo formally ended the event with his Closing Remarks.
The 7th ERDT Congress was hosted by Dr. Arnold E. Elepaňo, Dean of UPLB's College of Engineering and Agro-Industrial technology and Dr. Maria Antonia N. Tanchuling, Director of UPD's Institute of Civil Engineering.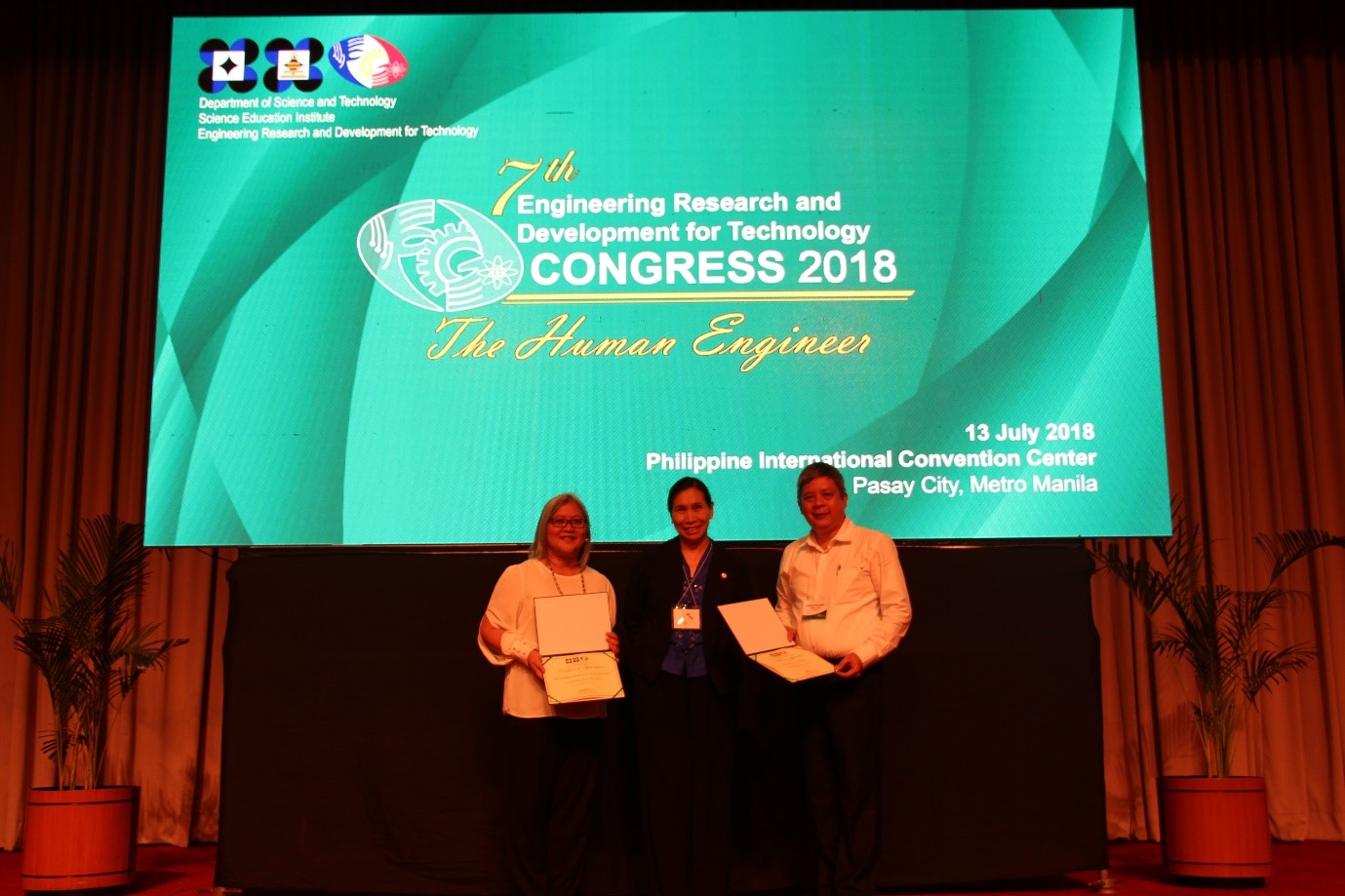 Masters of Ceremonies: Dr. Arnold E. Elepaňo and Dr. Maria Antonia N. Tanchuling.
PRESENTATIONS
DR. ROWENA CRISTINA L. GUEVARA
Keynote Speaker

DR. JAZMIN B. LLANA 
Plenary Talk: Humanitarian Engineering
 
PROF. LEONARDO C. ROSETE
Plenary Talk: Arts in Engineering
 
PROF. JERRY R. YAPO
Plenary Talk: Humanities in Engineering

FR. BIENVENIDO F. NEBRES 
Plenary Talk: Engineering for Social Change