3RD CONFERENCE: ERDT MEET TACKLES
MULTIDISCIPLINARY SOLUTIONS
TO PHILIPPINE PROBLEMS*
Celeste Ann Castillo Llaneta
Engineering, in its simplest terms, is the use of scientific knowledge to solve real-life problems.  The key, for the engineering community, its partners in the government and industry, is in choosing which problems to solve and which disciplines to tap into in order to solve such problems.
This was the focus of the 3rd Engineering Research and Development for Technology (ERDT) Conference held on September 11, 2009, at the EDSA Shangri-la Hotel.  The highly successful conference, which was held in partnership with the Department of Science and Technology (DOST) and the DOST-Science Education Institute (DOST-SEI), revolved around the theme, "Post-Graduate Multi-disciplinary Approach to Solving Philippine Problems."
Elaborating on the need to have a multidisciplinary approach to problems was the main keynote speaker Dr. Ian W. Douglas, Associate Professor of the College of Communications and Information of the Florida State University (FSU), Program Director of the FSU Learning Systems Institute (LSI), and Director of the LSI's Knowledge Communities Research Group, an interdisciplinary group of full-time researchers and graduate students.
It's only in the modern era that we see a mushrooming disciplines," said Dr. Douglas, addressing an audience of over 600 conference participants, including ERDT and Accelerated S&T Human Resource Development (ASTHRD) scholars, government officials, industry representatives, visiting professors, and the faculty and administrators of the ERDT's eight consortium-member universities—Ateneo de Manila University (ADMU), Central Luzon State University (CLSU), De La Salle University (DLSU), Mapua Institute of Technology (MIT), Mindanao State University-Iligan Institute of Technology (MSU-IIT), the University of San Carlos (USC), the University of the Philippines Diliman (UPD) and the University of the Philippines Los Baños (UPLB).  Some non-member institutions also participated in this conference.
"The danger is, we are separating these branches, and some of our major problems cannot be solved with one discipline alone," the keynote speaker added.  An MA Psychology degree-holder from the University of Glasgow in the United Kingdom, Douglas related his experience at the University of Glasgow where computer scientists and psychologists worked together to study several research problems, including artificial intelligence.
Fr. Bienvenido F. Nebres, SJ, president of the ADMU, recommended going beyond teams to multidisciplinary institutions, including institutions outside the universities.  He also reiterated that universities should work with high schools to locate and nurture budding talents.
"It's important to think about systems, and to see your part in the system.  We need to move from a view focused on the unit or discipline to focusing on improving the world.  Systems thinking is the discipline we need to see the whole picture."
-Dr. Ian W. Douglas
Three-year milestone
The ERDT Project, a ten-year program fully supported by the DOST, is now on its 3rd year of implementation.  It aims to produce engineers with graduate degrees and improve research and development (R&D) programs in engineering in the country with a view of promoting a culture of research in engineering institutions.
The ERDT conference commemorates this milestone by showcasing the achievements and progress made by its consortium-member universities, scholars, and faculty.
Universities play a key role in improving national competitiveness by providing manpower in various fields and undertaking research and development activities in areas that are vital to national development.  UP President Emerlinda R. Roman stated in her welcome remarks that all those involved in the consortium are doing just that.
Marcelo P. Salazar, DM, chancellor of the MSU-IIT, urged the ERDT consortium-member universities during his opening remarks to reflect on the strengths that they have developed as part of the ERDT for the past three years, and on the opportunities for a continuing improvement.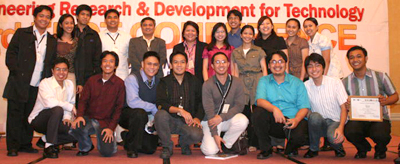 Dean Guevara with the ERDT Faculty and scholars from College of Engineering (Photo by UPDIO)
Paper presentations
After the first segment of the conference, which was hosted by Dr. Feliciano Alagao, Dean of the MSU-IIT College of Engineering, and Dr. Antonia N. Tanchuling, Associate Dean of the UPD College of Engineering, the conference participants broke off into seven simultaneous parallel paper presentations.  Each presentation revolved around one of the R&D research tracks of the ERDT.  Chairing Session 1 of the Information and Communications Technology (ICT) Track was Dr. Supavadee Aramvith of Thailand's Chulalongkorn University, while Dr. Yoshikazu Miyanagi of Japan's Hokkaido University chaired the ICT Track's Session 2.  The Environment and Infrastructure Track held three simultaneous sessions chaired by Dr. Tetsuo Yai of the Tokyo Institute of Technology, Dr. Benito M. Pacheco, director of the UP Institute of Civil Engineering, and Dr. Arnold Elepaño of UPLB, respectively.  Session chair of the Semi-conductor and Electronics Track session was Dr. Joel Joseph Marciano, Director of the UP Electrical and Electronics Engineering Institute (UP-EEEI), while Dr. Jun Chen of Australia's Wollongong University chaired the Energy Track session.
A total of 46 research papers were presented by ERDT researchers and scholars from various consortium-member universities.  After the sessions, the participants took the time to look over 35 research posters and to interact with the researchers standing by their posters.
The Best Paper Award and a P10, 000 cash prize were given to UPD College of Engineering researchers Diocel Harold M. Aquino, Maria Antonia N. Tanchuling, and Leah S. Fontanilla for their research paper on "Effect of Flow Rates in the Removal of Lead Ions from Solution in a Coco Peat Column." Two posters were chosen to receive the Best Poster Award and the cash prize of P5, 000 each: UP-EEEI's Brigitte Anne L. Bautista, Philip A. Martinez, Reniel Alexis N. Padua, Paul Jason R. Co, and Joel Joseph S. Marciano, Jr. for their poster on "Development of an RFID-based Lane-level Positioning System" and DLSU's Jurex C. Gallo, Mary Ann A. Mactal, Josephine Q. Borja and Susan M. Gallardo for "Photocatalytic Color Removal of Dyes using Nanotitania."
Fellowship
At the latter part of the conference, a fellowship was hosted by ADMU's Patty Laurel and Dr. Eric Paringit, chairman of the UPD Department of Geodetic Engineering.  The conference participants were treated to a raffle and a performance by the UP Kontemporaryong Gamelan Pilipino (UP Kontra-Gapi).
The members and staff of the ERDT Steering Committee were also credited for their hard work.  The ERDT Steering Committee was led by Dr. Rowena Cristina L. Guevara, Dean, UP College of Engineering, Program Leader, with members and respective project leaders: Dr. Fabian M. Dayrit, Dean, College of Science and Engineering, ADMU; Dr. Ireneo C. Agulto, Dean, College of Engineering, CLSU; Dr. Pag-asa D. Gaspillo, Dean, College of Engineering, DLSU; Dr. Jonathan A. Salvacion, Dean, Graduate School, MIT; Dr. Feliciano C. Alagao, Dean, College of Engineering, MSU-IIT; Dr. Nicanor S. Buenconsejo, Dean, College of Engineering, USC, Dr. Arsenio N. Resurreccion, Dean, College of Engineering and Agro-Industrial Technology, UPLB; and Dr. Norbert S. Que, Associate Dean for Academic Affairs, UPD College of Engineering. The 3rd ERDT Conference was sponsored by the Shell Exploration Corporation, Chiyoda Philippines Corp., IEEE/IET Electronic Library, and Techinfo Solutions Inc.
*3RD ERDT Conference "Post Graduate Multidisciplinary Approach to Solving Philippine Problems", September 11, 2009; Edsa Shangri-la Hotel, Mandaluyong City, Philippines